Asparagus is one of my favorite vegetables. Every recipe I have made with asparagus is always delicious. I think asparagus are just tasty in general no matter what you do with them. Here is my version of Asparagus with Gremolata Butter, sans the butter. I found the recipe in The Bon AppetitFast Easy Fresh Cookbook. And I promise, you won't miss the butter.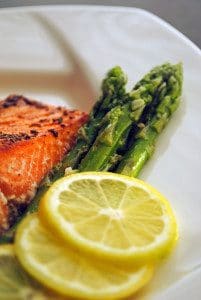 Print
Asparagus in Gremolata
Yield 6
Ingredients
2 pounds asparagus, trimmed
2 tablespoons olive oil
2 teaspoons finely grated lemon peel
1 garlic clove, mined
2 tablespoons fresh lemon juice
1 tablespoon fresh Italian parsley, chopped
Instructions
Cook asparagus in a large pot of boiling salted water until just crisp-tender, about 4 minutes. Drain, rinse with cold water to cool quickly. Drain again.
Cook olive oil in a heavy large skillet over medium high heat. Add lemon peel and garlic; stir for about 30 seconds. Add asparagus and toss to coat. Sprinkle lemon juice over. Saute until asparagus is heated through and coated with olive oil sauce, about 3 minutes. Season the asparagus to taste with salt and pepper. Transfer to a platter and sprinkle with fresh parsley.
Courses Main
Cuisine American
Nutrition Facts
Amount Per Serving

Calories 62

% Daily Value

Total Fat 5 g

8%

Saturated Fat 1 g

5%

Sodium 3 mg

0%

Total Carbohydrates 5 g

2%

Dietary Fiber 2 g

8%

Sugars 2 g

Protein 2 g

4%
* Percent Daily Values are based on a 2,000 calorie diet. Your daily values may be higher or lower depending on your calorie needs.