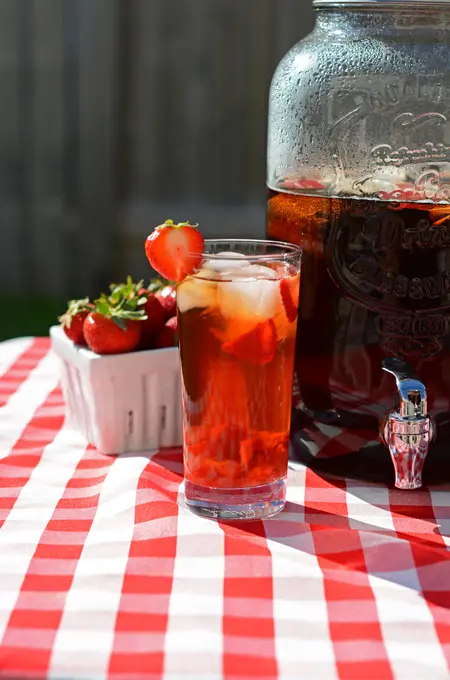 It's crazy hot and humid in H-town, also known as Houston. The dog days of summer are here. And one memory I have as a kid was during the summertime my sister and I would stay with my grandma and when the sun was bright and blazing hot, she would put a chair out in the back yard and place a large jug of tea on it and just let the tea steep for hours in the sun.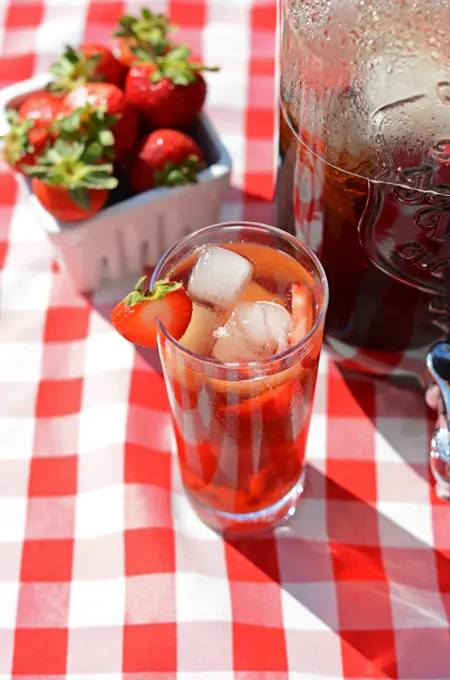 With it being crazy hot right now it made me crave a nice glass of cold sun tea. This recipe for Strawberry Sun Tea is inspired by my grandma. She never put strawberries in it but that's my spin on it. Plus strawberries are plentiful in the summer so why not?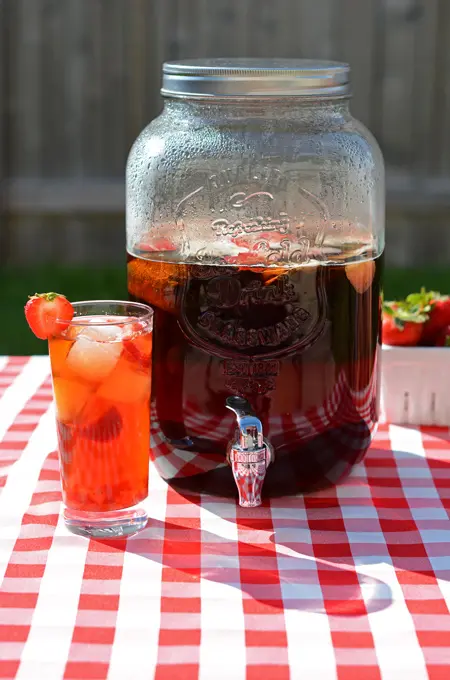 It's up to you if you would like to add sugar to your tea. I originally made it without sugar but I feel a little sugar is necessary to really bring out the flavor of the strawberries.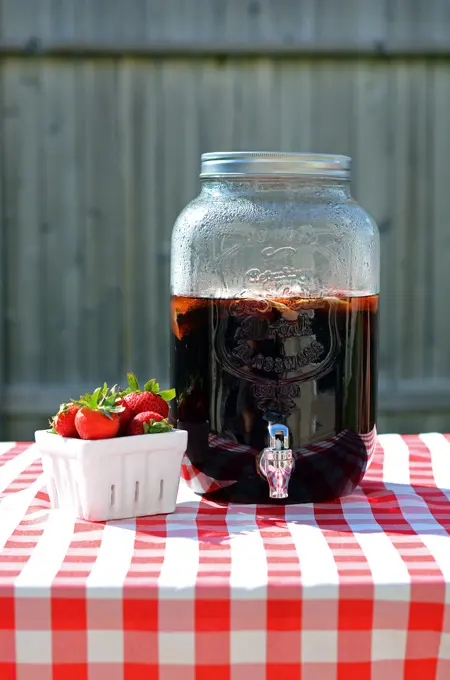 So what is your favorite cold drink in the summer? Is it iced tea like mine? Or maybe a nice cold soda, or float? Or maybe even snow cones! Those are pretty amazing when it's 100 plus degrees outside. Comment below what your favorite drink is, I can't wait to read them.
You can follow The Cake Chica on Facebook, Instagram, and Pinterest
You May Also Like: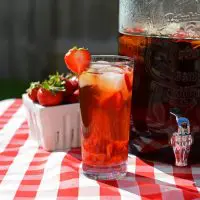 Strawberry Sun Tea
Yield:
24 8 ounce servings
Black tea brewed in the sunshine with a strawberry muddle mixed in.
Ingredients
SPECIAL TOOLS
TEA
6 quarts of water
6 tea bags
1 cup granulated sugar
3 pounds strawberries, divided
6 tablespoons granulated sugar
STRAWBERRIES
3 pounds strawberries, divided
6 tablespoons granulated sugar
Instructions
TEA
In a 2 gallon or larger pitcher, pour in water and place tea bags in the water. Stir in 1 cup sugar. Cover and place tea in the sun for about 4 to 5 hours to steep.
STRAWBERRIES
Meanwhile, set aside ½ pound of strawberries for garnish. With the remaining strawberries, hull and crush about 3 cups strawberries with a potato masher in a large bowl. Hull and slice the remaining strawberries and add them to the mashed strawberries. Add 6 tablespoons sugar and stir to combine. Cover and set in the refrigerator until the sun tea is done.
SERVE
Remove the tea bags and stir tea with a wooden spoon. At this point you can either pour the strawberry compote into the tea or serve the compote into individual glasses. Serve over ice and enjoy.
Nutrition Information:
Yield:

24
Serving Size:

8 ounces
Amount Per Serving:
Calories:

93
Total Fat:

0g
Saturated Fat:

0g
Trans Fat:

0g
Unsaturated Fat:

0g
Cholesterol:

0mg
Sodium:

11mg
Carbohydrates:

23g
Fiber:

2g
Sugar:

20g
Protein:

1g
*Nutrition information is an estimate and will vary.*