Snickerdoodle Cupcakes
This recipe for Snickerdoodle Cupcakes has been updated on 11/26/2020
These light and airy Snickerdoodle Cupcakes are baked with ground cinnamon, then topped with a fluffy marshmallow frosting and sprinkled with cinnamon-sugar giving a nod to the classic snickerdoodle cookie in cupcake form.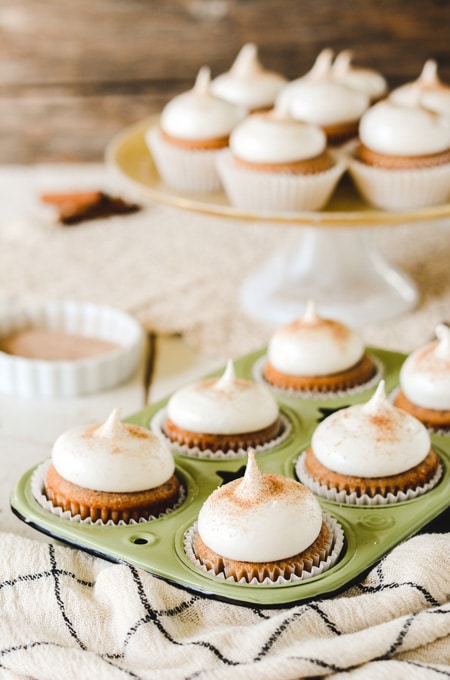 Snickerdoodle Cupcake Base
I used my most popular white cake recipe as the base for these Snickerdoodle Cupcakes and added some ground cinnamon to the batter.
This cake batter uses the reverse creaming method. Adding the butter to the dry ingredients coats the flour creating an ultratender crumb. Instead of creaming the butter with the wet ingredients as you'll see on most cake recipes.
Cake flour has less protein in it than all-purpose flour which produces less gluten, leaving you with a finer crumb with a light and soft texture.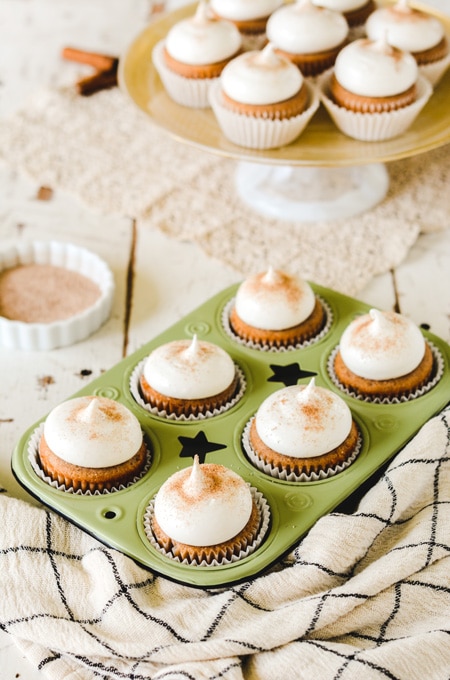 Marshmallow Frosting
I originally had a 7-minute frosting on these cupcakes, but I've found that 7-minute frosting can deflate pretty quickly so I opted to change it to a marshmallow frosting which holds up longer and in my opinion, is more tasty!
When making marshmallow frosting I find these tools very helpful:
Stand mixer
Candy thermometer
An assistant! Not required but if you have one, it makes it that much easier! I don't have an assistant and my marshmallow frosting always comes out heavenly.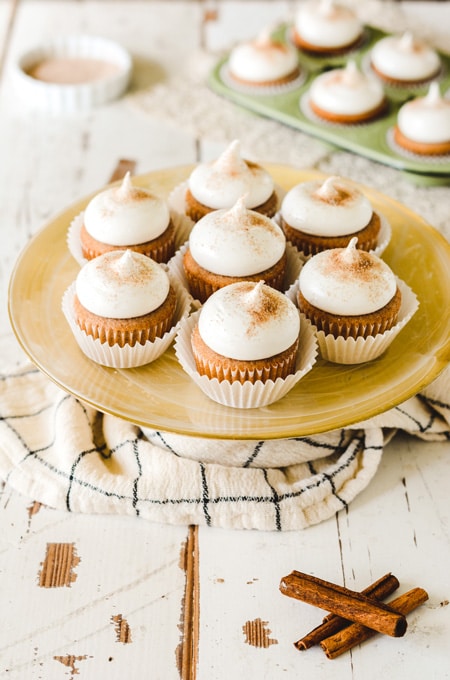 Cinnamon-Sugar Topping
You can get the store bought stuff, but I find making the cinnamon-sugar topping has more flavor than the bottled stuff you'll find at the supermarket. And it's so easy!
1/2 teaspoon ground cinnamon
2 tablespoons granulated sugar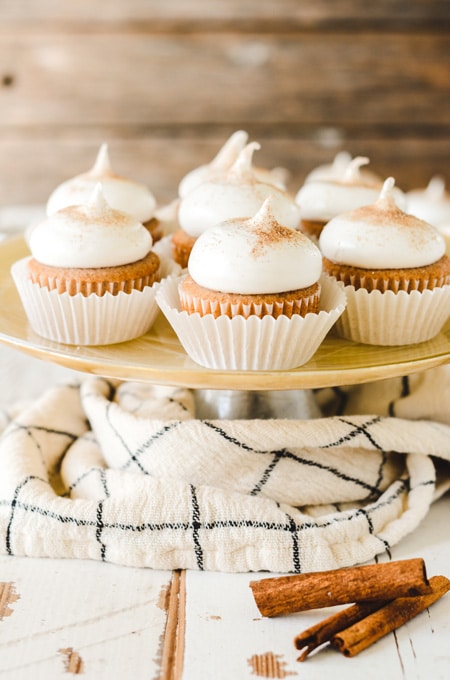 Plan It Out
Day 1: Bake cupcakes.
Day 2: Prepare marshmallow frosting, decorate and serve.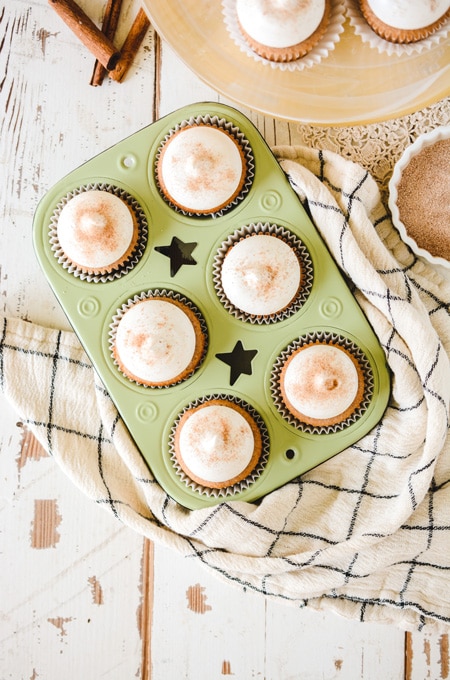 Let's Connect
The Cake Chica is on Facebook sharing sneak peeks of recipes to come, Instagram for your food porn desires and Pinterest for your board pinning needs.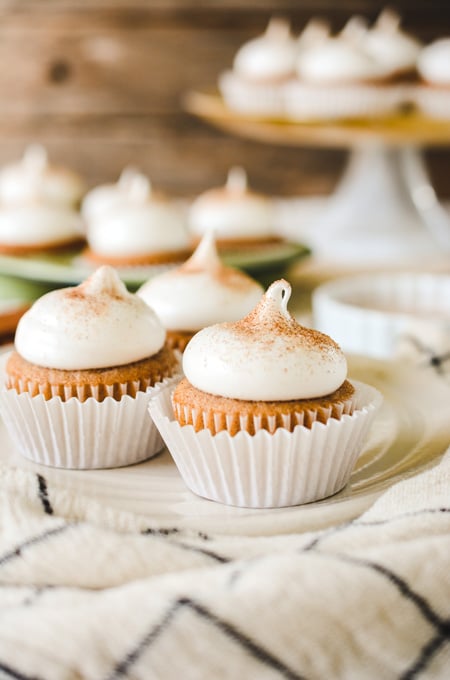 You May Also Like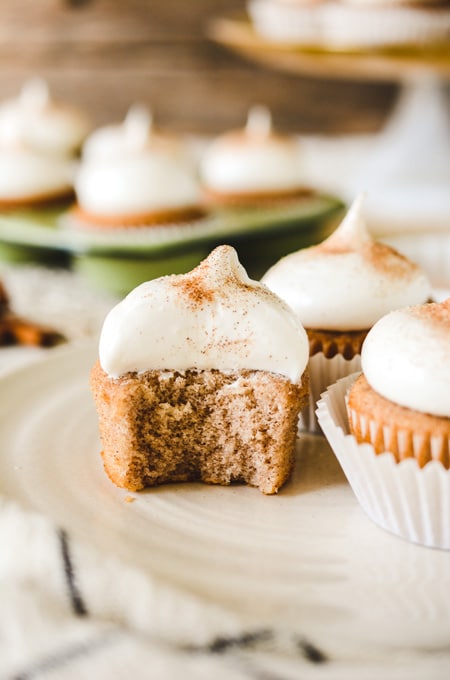 Inspired by Martha Stewart's Cupcakes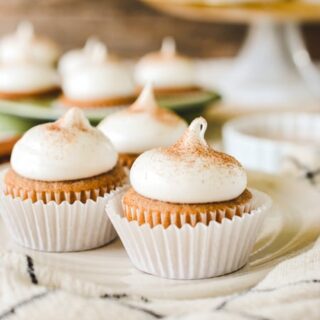 Snickerdoodle Cupcakes
Additional Time:
20 minutes
These light and airy white cupcakes baked with ground cinnamon, then topped with a fluffy marshmallow frosting and sprinkled with cinnamon-sugar give a nod to the classic snickerdoodle cookie in cupcake form.
Ingredients
SPECIAL TOOLS
2 12-cup cupcake pans
Cupcake liners
Stand mixer
Candy thermometer
3 tablespoon sized spring loaded ice cream scoop
Piping bag
Ateco piping tip #808
CUPCAKES
1 cup whole milk, at room temperature
6 large egg whites, at room temperature
1 teaspoon vanilla extract
2 ¼ cups (9 ounces) cake flour
1 ¾ cups (12 ¼ ounces) granulated sugar
4 teaspoons baking powder
1 tablespoon ground cinnamon
1 teaspoon salt
12 tablespoons unsalted butter, cut into tablespoon sized pieces, at room temperature
MARSHMALLOW FROSTING
1 cup (7 ounces) granulated sugar
1/4 teaspoon cream of tartar
1/2 cup water
4 egg whites
Pinch fine sea salt
CINNAMON-SUGAR TOPPING
½ teaspoon ground cinnamon
2 tablespoons granulated sugar
Instructions
CUPCAKES
Adjust an oven rack to the center position and heat oven to 350 degrees. Line 2 cupcake pans with cupcake liners and set aside.
In a bowl, whisk together milk, egg whites and vanilla extract. In the bowl of a stand mixer, with the paddle attachment attached, mix the flour, sugar, baking powder, cinnamon and salt on low speed until combined. Add butter one tablespoon at a time until the mixture forms pea-sized pieces, about 1 minute. Reserve ½ cup of the milk mixture and pour the remaining to the flour mixture and mix on medium-high speed until light and fluffy, about 1 minute. Reduce the mixer speed to medium-low and add the reserved ½ cup milk mixture to the batter and mix until combined, about 30 seconds. Do not over mix. The batter may look curdled. Give the batter a final stir by hand with a rubber spatula.
Using a 3 tablespoon sized spring loaded ice cream scoop, divide the batter evenly between the prepared cupcake pans. Gently tap cake pans on the counter to settle the batter and bake until a toothpick inserted in the centers comes out with a few moist crumbs attached, about 15 to 17 minutes, switching and rotating pans halfway through baking.
Let cupcakes cool in their pans on wire racks for 5 minutes. Invert cupcakes on to wire racks to cool completely.
MARSHMALLOW FROSTING
Combine the sugar, cream of tartar and water in a small saucepan with a tight fitting lid. Heat saucepan over medium-high heat uncovered. Once the mixture comes to a boil, cover the saucepan and cook for 2 minutes. Uncover the saucepan and continue to boil until the sugar syrup reaches 242 degrees on a candy thermometer.
While the syrup is heating up, combine the egg whites and salt in a clean bowl of a stand mixer fitted with the whisk attachment. Starting on low speed, beat egg whites, and gradually increase the speed to medium-high in the process. Beat until soft peaks form.
If your sugar syrup is close to reaching 242 degrees, continue to whip the egg whites to firm peaks. If your sugar syrup is not close to reaching 242 degrees, let the egg whites wait at the soft peak stage before whipping them into firm peaks as the sugar syrup comes to temperature.
Once the sugar syrup has come to 242 degrees and the egg whites are whipped to firm peaks, run the mixer on high speed and slowly pour the sugar syrup down the inside of the bowl and into the whipped egg whites. Continue whipping until the filling becomes thick and holds stiff peaks, about 5 minute. Add vanilla extract and whip to combine.
ASSEMBLE
In a small bowl, combine ½ teaspoon ground cinnamon with 2 tablespoons granulated sugar.
Fill a piping bag fitted with Ateco piping tip #808 With marshmallow frosting. Pipe dollops of marshmallow frosting on top of each cupcake. Sprinkle cinnamon-sugar on top and serve.
Notes
*Cupcakes are best eaten the day they are frosted.*
STORAGE: Unfrosted cupcakes can be stored up to 2 days at room temperature or frozen up to 2 months in the freezer in an air tight container.
Nutrition Information:
Yield:

24
Serving Size:

1
Amount Per Serving:
Calories:

1011
Total Fat:

52g
Saturated Fat:

17g
Trans Fat:

3g
Unsaturated Fat:

30g
Cholesterol:

67mg
Sodium:

1004mg
Carbohydrates:

133g
Fiber:

6g
Sugar:

94g
Protein:

11g
*Nutrition information is an estimate and will vary.*