Happy Sunday everyone! I am happy to have a blog post for you today. It's been a few weeks since I have posted. I am in the process of getting my home ready to sell so I have been extremely busy and haven't had much time to cook. July 4th weekend gave me 4 days to get some things done around the house. Now that it's Sunday I am looking forward to getting back on schedule with meals and such.
This recipe was inspired by Ellie Krieger's Fettuccine with Creamy Red Pepper Sauce. The original recipe had no meat in it and well, for me and my husband, that just doesn't work. So we added some shrimp to it, and since my husband prefers linguine over fettuccine, we switched the noodles. See our version of this tasty recipe below.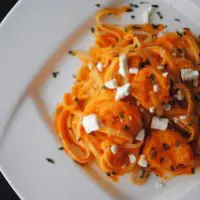 Shrimp Linguine with Creamy Red Pepper Sauce
Ingredients
2 tablespoons olive oil
1 cup chopped onion
2 teaspoons chopped garlic
1 16 oz. jar roasted red peppers, drained, rinsed and chopped
½ cup low-sodium chicken broth
8 oz. crumbled feta cheese
1 pound medium shrimp, tails removed and deveined
1 tablespoon unsalted butter
1 pound organic whole wheat linguine
Salt and pepper, to taste
2 tablespoons fresh parsley, chopped
Instructions
Heat 2 tablespoon olive oil in a medium skillet over medium-high heat. Add the onion and garlic and cook, stirring a few times, until softened, about 5 minutes. Add the roasted peppers and cook, stirring a few times until heated through. Remove from the heat and let cool for about 5 minutes.
Transfer the red pepper mixture to a food processor or blender. Add the broth and all but 4 tablespoons of the feta cheese, process until combined and smooth, about 30 seconds.
In a non-stick skillet melt 1 tablespoon unsalted butter over medium-high heat. Add shrimp and cook for 2-3 minutes on each side. Set aside.
Cook the pasta according to the package directions. Drain and reserve ½ cup of the pasta water. Toss the pasta with the sauce, adding the pasta water by the tablespoon if needed. The sauce should cling nicely to the pasta. Season with salt and pepper. Divide into 5 pasta bowls and top with some feta cheese and chopped parsley.
Nutrition Information:
Serving Size:

1
Amount Per Serving:
Calories:

609
Total Fat:

15g
Saturated Fat:

6g
Cholesterol:

204mg
Sodium:

1465mg
Carbohydrates:

87g
Fiber:

11g
Sugar:

5g
Protein:

32g