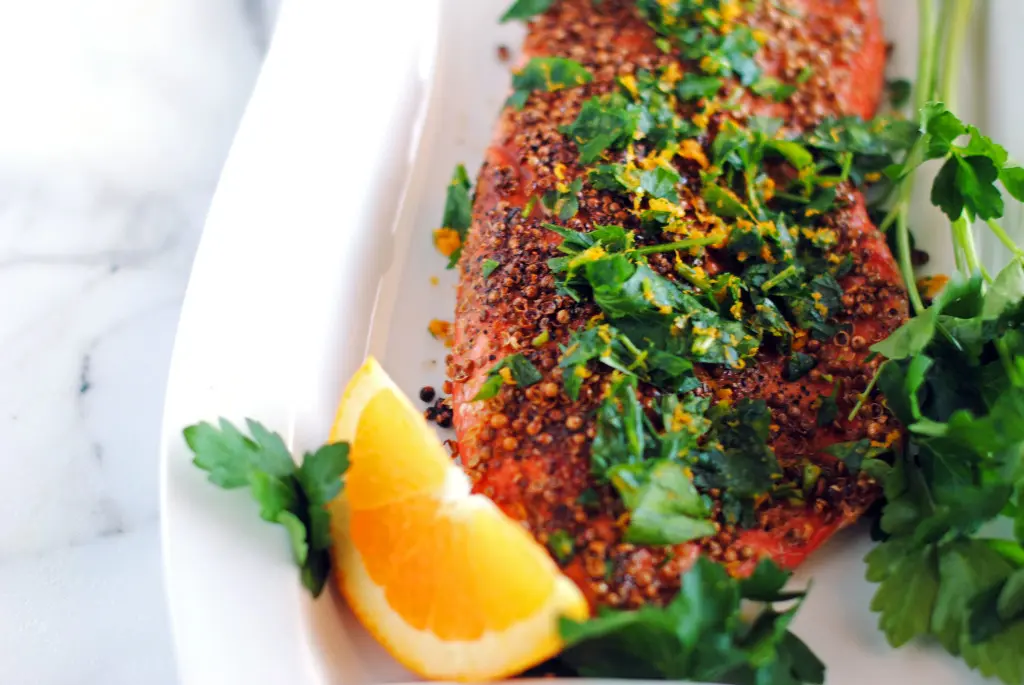 UPDATE 3/2016: Another recipe update! This week its Pepper and Coriander Coated Salmon Fillets. If you've noticed I have been taking on a pattern lately. Every Wednesday I update an old favorite recipe with some new food porn. This one goes back to December of 2012. Back before I knew how to work with my camera. I still have a lot to learn but I am pretty excited that just this year I began shooting in Manual mode with my camera. Making progress!
I found this recipe in
The Bon Appetit Fast Easy Fresh Cookbook
I cooked out of this book for at least a month straight! I still haven't found a recipe in this cookbook that I didn't like. It's full of easy, quick and mostly healthy meals you can make on a weeknight. Definitely one to add to your cookbook library.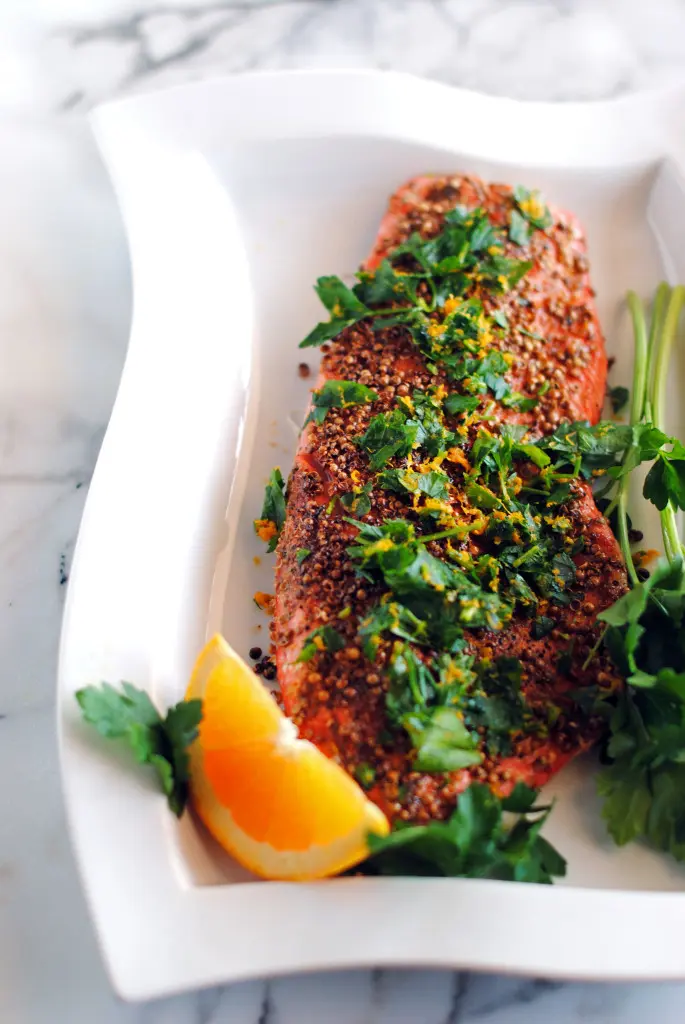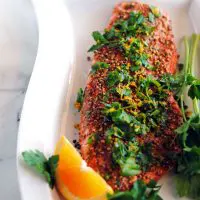 Pepper and Coriander Coated Salmon Fillets
Ingredients
3 tablespoons chopped fresh Italian Parsley
3 tablespoons finely grated orange peel
¼ cup coriander seeds, coarsely crushed
1 tablespoon packed dark brown sugar
2 teaspoons coarsely ground black pepper
4 6-ounce wild salmon fillets
1 tablespoon butter, divided
1 tablespoon canola oil, divided
Instructions
Mix parsley and orange peel in a small bowl. Mix coriander, brown sugar, and black pepper in medium bowl.
Sprinkle salmon with salt. Coat salmon on all sides with spice mixture. Melt ½ tablespoon butter and ½ tablespoon oil in heavy large skillet over medium-high heat. Add 2 salmon fillets. Cook fish until crust is golden and center is just opaque, about 4 minutes per side. Transfer fish to a platter. Tent with foil to keep warm. Wipe skillet. Repeat with remaining butter, oil and salmon. Spoon parsley mixture on top of salmon.
Nutrition Information:
Serving Size:

1
Amount Per Serving:
Calories:

444
Total Fat:

27g
Saturated Fat:

6g
Cholesterol:

116mg
Sodium:

102mg
Carbohydrates:

3g
Sugar:

3g
Protein:

44g