I don't know why I haven't blogged about my most favorite protein shake recipe? It's one I make several times a week and I just can't seem to pull myself away from this one. I have tried others but they just aren't the same. I never get bored with this one either. That should show you how much I love this one. Every now and again I'll try something different just too well…..try something different. But I always come back to my first love I guess you can say.
My husband once asked "Why don't you just use chocolate protein powder instead of the cocoa?" I told him I tried that once and it just didn't have the same flavor. So stick with the vanilla protein powder and just add the cocoa to the mix.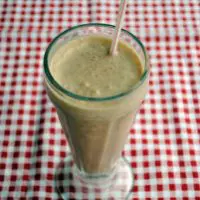 Peanut Butter Cup Protein Shake
Ingredients
1 banana
1 scoop vanilla protein powder
1 cup low fat milk or almond milk
1 tablespoon cocoa powder
1 tablespoon Skippy creamy natural peanut butter
Ice (optional)
Instructions
Put all the ingredients in a blender and blend!!!!
Nutrition Information:
Serving Size:

1
Amount Per Serving:
Calories:

493
Total Fat:

15g
Saturated Fat:

6g
Cholesterol:

55mg
Sodium:

266mg
Carbohydrates:

55g
Fiber:

6g
Sugar:

35g
Protein:

40g