I love the texture the crackers give this dish. I don't know why I don't see this being used for crusting more often? The only bad thing that I really hate is that even the "whole wheat" crackers are not truly whole wheat. The ingredients list this as being "enriched" that's a dirty word in my book. I don't understand why they have to extract the good stuff and then "enrich" it back in???
I will overlook it this time since I rarely consume any "enriched" products, or at least I try my hardest not to. But I am on the lookout for a whole wheat cracker that is still truly whole wheat. If you know of any please let me know!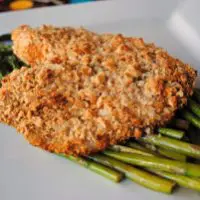 Oven Fried Fish
Ingredients
Vegetable oil spray
2 tablespoons olive oil
2 tablespoons fresh lemon juice
1 teaspoon dried basil
¼ teaspoon sea salt
¼ teaspoon pepper
½ paprika
¼ teaspoon garlic powder
40 whole wheat saltine crackers, crushed
32 ounces flounder or sole
Instructions
Preheat the oven to 475 F. Cover a baking sheet with foil and spray with vegetable oil spray.
In a pie plate, stir together olive oil, lemon juice, basil, salt, pepper, paprika, and garlic powder.
Put the cracker crumbs in a separate pie plate. Set the plates and baking sheet(s) in a row, assembly line fashion.
Rinse the fish and pat dry with paper towels. Dip the fish in the olive oil mixture, then roll it in the cracker crumbs, coating well. Arrange the fish in a single layer on the baking sheet(s). Spoon the remaining olive oil mixture over the fish.
Bake for 15 minutes, or until the fish flakes easily when tested with a fork. Serve with lemon wedges if you would like.