This is a recipe you can eat for breakfast lunch or dinner. It's crazy-easy to prepare; super yummy and pretty nice to look at to. I usually take a picture with my cell phone using the VSCO Cam app and use that as a little teaser on social media (Insert shameless plug: you can follow me on Facebook, Instagram, and Pinterest) to let everyone know what's coming up next. But this is one of those pictures I couldn't take my eyes off of. Most people would think I am crazy, but I know my food photography loving friends know exactly what I am talking about, right? "Take a picture, it'll last longer." That's what they say, and that's what I did. And yeah my food was cold by the time I got done with the Goddess' photo shoot, but it was still just as yummy as it looked!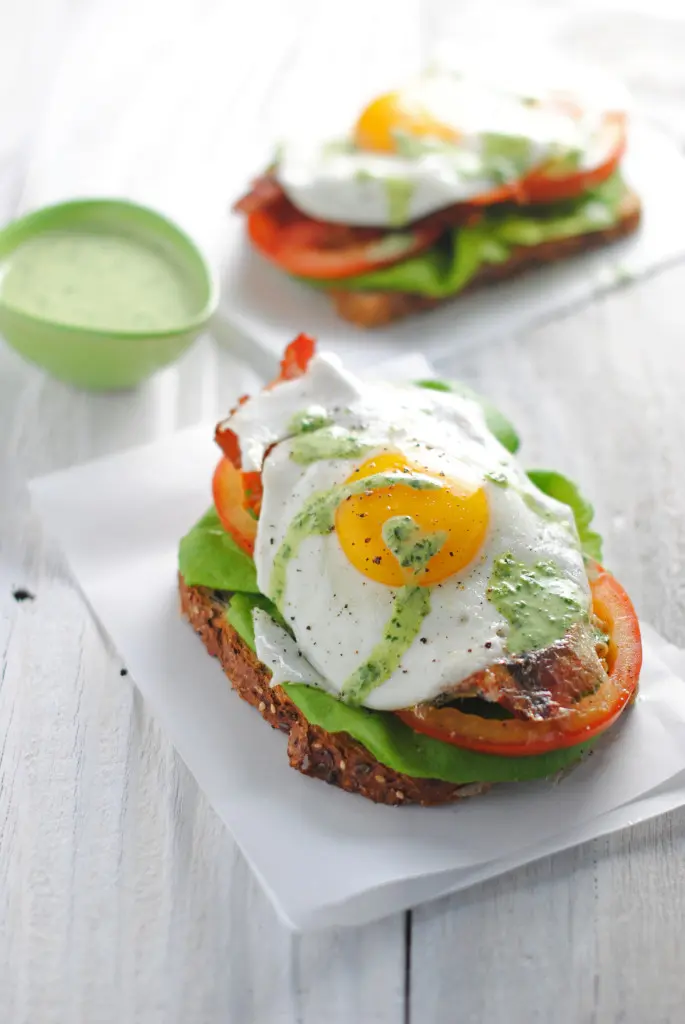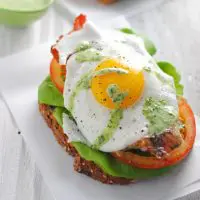 Open-Face Green Goddess BLT's
Ingredients
8 slices organic bacon, cooked, I used Applegate brand
¼ cup buttermilk
2 tablespoons mayonnaise
1 tablespoon fresh lemon juice
¼ cup chopped chives
1 cup lightly packed herbs such as parsley, basil, mint and tarragon
¼ teaspoon kosher salt
¼ teaspoon fresh ground black pepper
4 slices whole-grain bread or bread of your choice, I used Dave's Killer Organic Bread, toasted
Non-stick spray
4 eggs
8 leaves of butter lettuce
1 large beef steak tomato, cut into 8 slices
Instructions
Puree buttermilk, mayonnaise, lemon juice, chives, herbs, salt and pepper in a blender until smooth. Spread 1 tablespoon of dressing on each bread slice.
Lightly coat a large non-stick skillet with non-stick cooking spray and heat to medium-high. Crack eggs into the skillet and cook until whites are firm but yolks are still runny, about 2 to 3 minutes.
Top each slice of bread with 2 lettuce leaves, 2 tomato slices, 2 bacon slices and 1 egg. Drizzle dressing on top and serve.
Nutrition Information:
Serving Size:

1
Amount Per Serving:
Calories:

316
Total Fat:

19g
Saturated Fat:

4g
Cholesterol:

202mg
Sodium:

726mg
Carbohydrates:

24g
Fiber:

5g
Sugar:

6g
Protein:

16g