I love this chocolate cake for many reasons:
1. It's super easy.
2. I don't even have to turn on my mixer.
3. It's so good!
I shouldn't need any more reasons other than that! When eating out, on special occasions my husband and I will get dessert, of which I rarely choose a cake dessert. I have never been impressed with any cake I have ordered while dining at a restaurant so I just stopped ordering them all together and choose something like a pie, ice cream or crème brulee (which I have never had success with, but I will try again soon). Well one night I decided to be adventurous and decided to order the chocolate cake at Antonia's Cucina Italiana in Katy, TX and boy was I pleased! I thought, wow I guess some restaurants have gotten better with the cakes they serve for dessert. So silly me, this past Valentine's Day at another restaurant I decided I wanted some chocolate cake for dessert, as I saw the decadent looking chocolate cake on the dessert tray I couldn't resist. So I was anticipating how sweet, chocolaty and decadent this chocolate cake was going to be. Once it got to the table I had high hopes. Well one bite into it and I was very disappointed. I looked at my husband and said "this cake isn't very good" he laughed and continued to eat his delicious bread pudding (the dessert I should have ordered) because it was no surprise to him. He knows how picky I can be with cake. As I continued to eat this not so good cake with a huge frown on my face (I know I had one because my husband told me), my husband said, don't eat it if you don't like it. And he was right. I wasn't about to waist precious calories on a mediocre chocolate cake. So I sent it back. The look on the waiters face was priceless. It was the look of utter confusion. This must have been the first time someone sent back dessert as he didn't seem to know what to say or do. After a few seconds I just said I am just picky since the cake was probably very good, very good for someone else not The Cake Chica. After that, I decided this was the cake I was craving for that night, just a simple, delicious, old fashioned chocolate cake and this recipe really couldn't get any simpler.
***Icing must sit at room temperature for 2-3 hours for a spreadable consistency***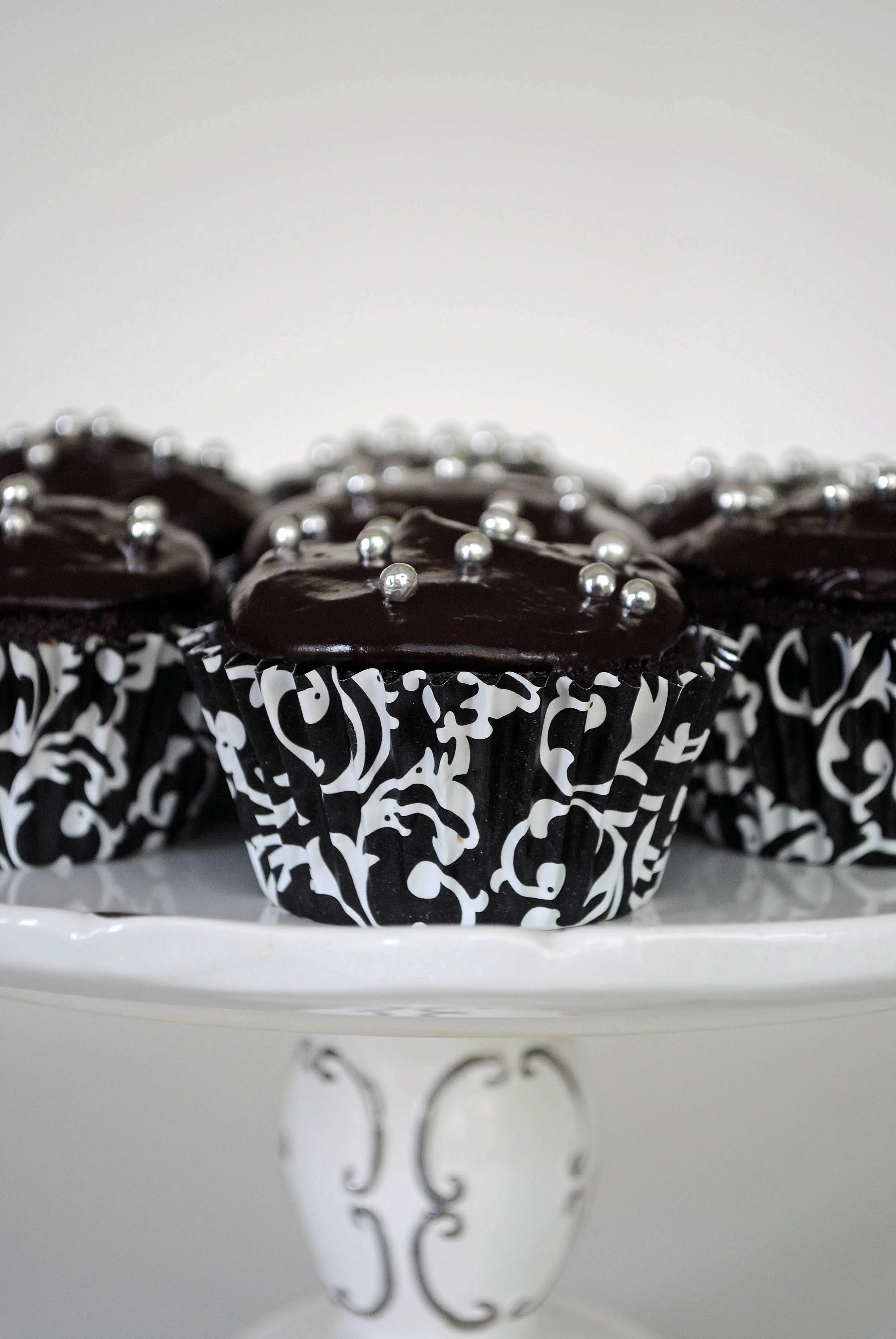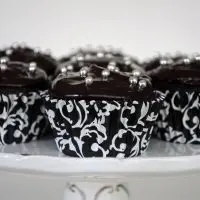 Old-Fashioned Chocolate Cupcakes with Glossy Chocolate Icing
Ingredients
CHOCOLATE CAKE
3 cups all purpose flour
2 cups sugar
1/2 cup unsweetened cocoa powder, sifted
2 teaspoons baking soda
1 teaspoon table salt
2 cups hot water
3/4 cup vegetable oil
2 tablespoons distilled white vinegar
1 tablespoon instant coffee granules
1 tablespoon vanilla extract
GLOSSY CHOCOLATE ICING
8 tablespoons unsalted butter
1 1/2 cups sugar
1 1/4 cups unsweetened cocoa powder, sifted
1/8 teaspoon table salt
1 1/4 cups heavy cream
1/4 cup sour cream
1 teaspoon instant coffee granules
2 teaspoon vanilla extract
Instructions
CAKE
Preheat your oven to 350 degrees with rack in the center. Line a cupcake tin with cupcake liners.
Whisk together the flour, sugar, cocoa, baking soda and salt in a large mixing bowl.
Combine the water, oil, vinegar, instant coffee and vanilla in a large measuring cup and stir until the coffee has dissolved. Add the coffee mixture to the dry ingredients and stir until just combined – a few lumps are okay. Divide the batter among the lined cupcake pan about 3/4 full, then bake until a toothpick inserted in the center of each cupcake comes out with just a few moist crumbs, about 15-20 minutes. Then very carefully invert them onto a rack to cool completely.
ICING
Melt the butter in a large saucepan over medium heat.
Stir in the sugar, cocoa and salt. Mixture will be thick and grainy.
Combine the heavy cream, sour cream and instant coffee in a large measuring cup, mixing until smooth. Gradually add the cream mixture to the chocolate until blended and smooth. Cook and stir until the sugar has dissolved and the mixture is smooth and hot to the touch, about 6-8 minutes. Do not boil.
Turn off the heat and add the vanilla. Cool the icing to room temperature until spreadable, 2-3 hours. (Icing may be chilled until completely cold, then, warmed gently in the microwave until spreadable. Heat at high power in 20 second intervals, stirring well after each interval.)
Recipe adapted from Cuisine At Home