***The simple syrup has to steep for at least 4 hours or up to 24 hours***
Well after a hectic work week what better way to celebrate the weekend by having a freshly made margarita on Margarita day!
I am not a big drinker but I like the occasional mixed drink on special occasions or after a tough week at the office (like this week). And just like my food, I must have the purest of ingredients in my mixed drinks as well! This margarita recipe uses real fruit juice, with none of those pre-made mixes. Let me know what you think. Enjoy!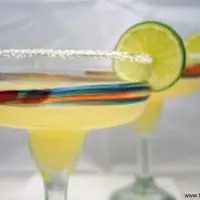 Margaritas
Ingredients
SIMPLE SYRUP
4 teaspoons grated lime zest
½ cup fresh squeezed lime juice, from about 4 limes
4 teaspoons grated lemon zest
½ cup fresh squeezed lemon juice, from about 3 lemons
¼ cup superfine sugar
MARGARITA
1 cup crushed ice
½ cup 100 percent agave tequila
½ cup triple sec
Instructions
Combine the lime zest and juice, lemon zest and juice and sugar in a large liquid measuring cup, cover with plastic wrap and refrigerate until flavors meld, at least 4 hours or up to 24 hours.
Divide 1 cup crushed ice among 2 margarita glasses. Strain the juice mixture into a cocktail shaker. Add tequila, triple sec and shake until thoroughly combined and chilled, about 20 to 60 seconds. Strain into ice filled margarita glasses and serve immediately.