Hello everyone! It's time to reveal another room in our new-to-us home! The Laundry Room!!! If you missed the last post on our little Rustic Texas Farmhouse you can check out our newly remodeled entryway that includes a few tips on how to create a clean and inviting entryway!
Let's check out what we had to work with in our laundry room when moving in.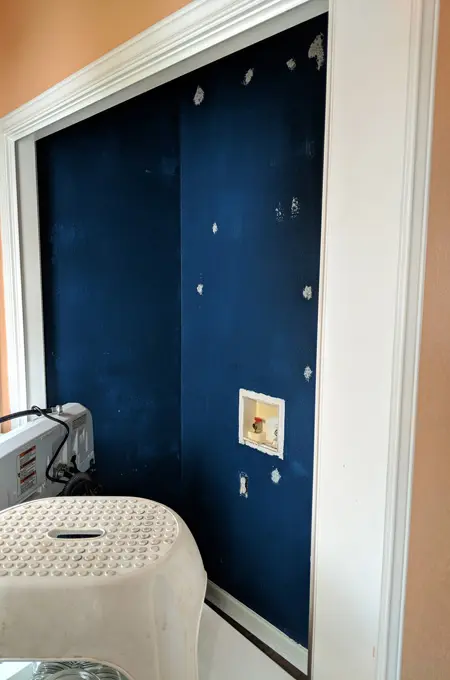 We don't technically have a laundry "room", more like a laundry closet. We came from a home that had its own laundry room so moving into a home with a laundry closet took some getting used to at first. As you can see we have a couple of bold colors in this area. I wanted to neutralize this space, especially since it's so small. I chose Sherwin Williams Repose Gray.
Prepare
To prepare this space we emptied out as much as we could before we started painting. I cleaned the walls and floorboards and took off the shelving unit in the closet so we could reconfigure it to fit our storage needs. We also removed the doors from the laundry closet because once we got the washer and dry inside, it was a pretty tight fit. Plus the doors were just awkward so we decided to remove them and put up a decorative curtain instead.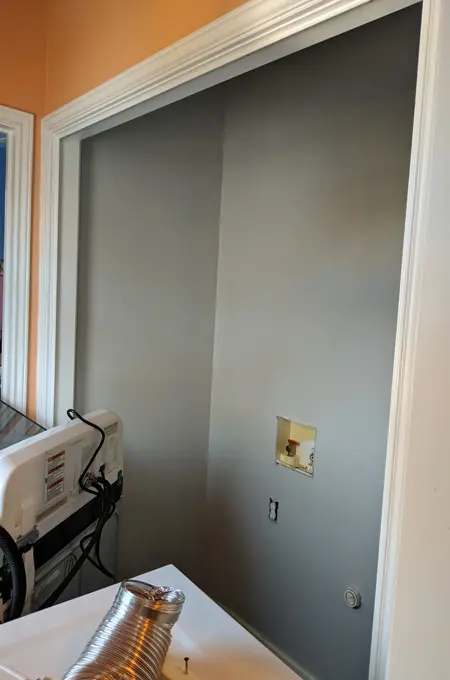 Declutter
Being that we downsized in the laundry area I had be sure I organized it to be as functional as possible. Which meant planning out the space and getting rid of, or moving things that didn't belong. We have no space for clutter.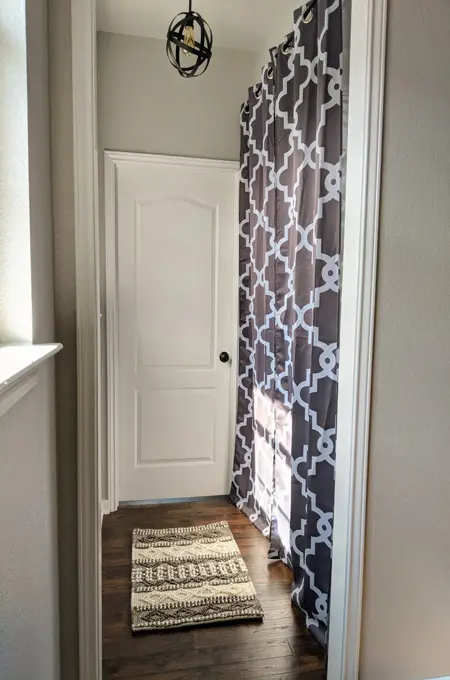 Clean
Since we painted and had to take everything out of the closet, this gave us a chance to give the closet a thorough cleaning:
walls
floors
baseboards
shelving
washer
dryer
This was our list, your list may be longer or shorter but you get the idea. Clean!

Organize
Organization!!! My favorite! I'm all about decorative organization, especially in a small space.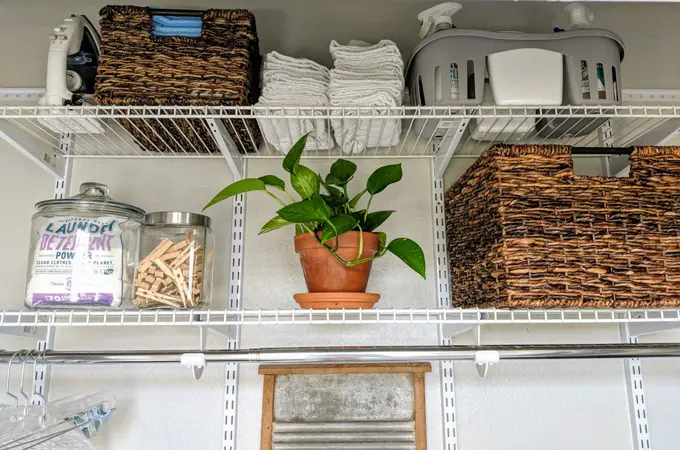 I love baskets! Beautiful and functional. I have a large basket to hold all my additional laundry cleaning elements that I don't use with every load.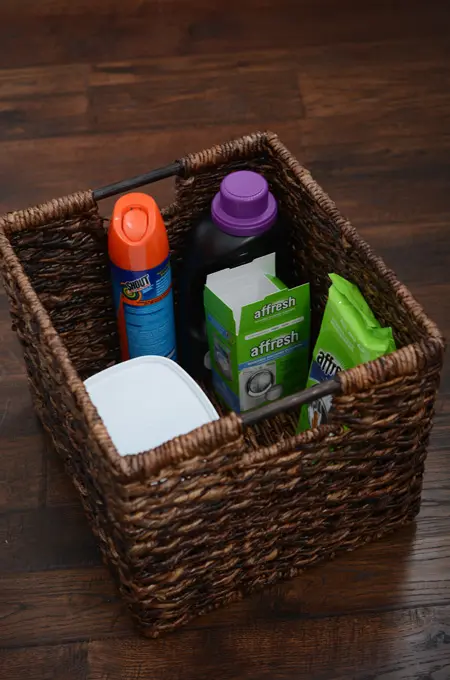 For the items I always use when doing laundry I have decoratively displayed in a glass jar. I also have dryer sheets stored behind my favorite Thrive Market brand laundry detergent.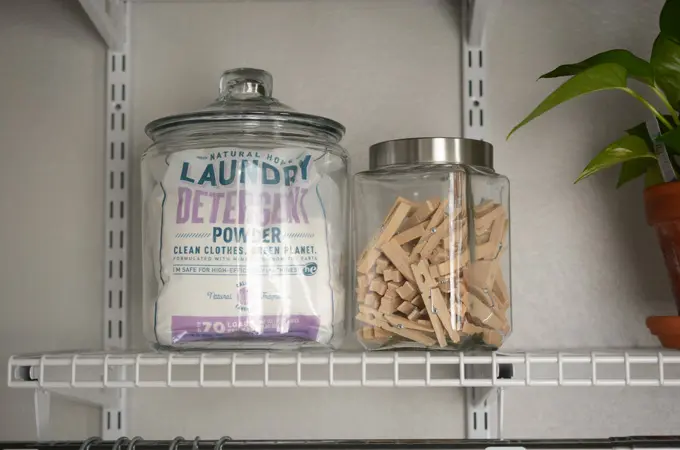 I admit the clothes pins I rarely use but I had them and I had the random glass jar, so naturally it makes sense to store the pins in the laundry room.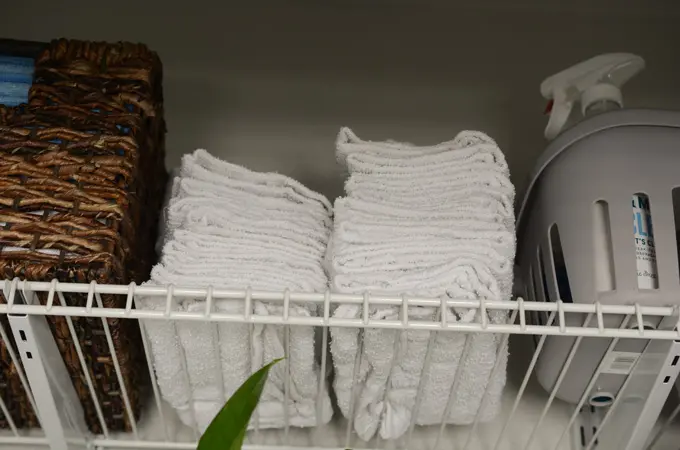 On the top shelf I store cleaning products. I forgot to mention our laundry area is upstairs, so I like to store a second set of cleaning products upstairs. I am also trying to reduce the amount of paper towels we use for cleaning, so I have terry cloths and microfiber cloths upstairs for cleaning.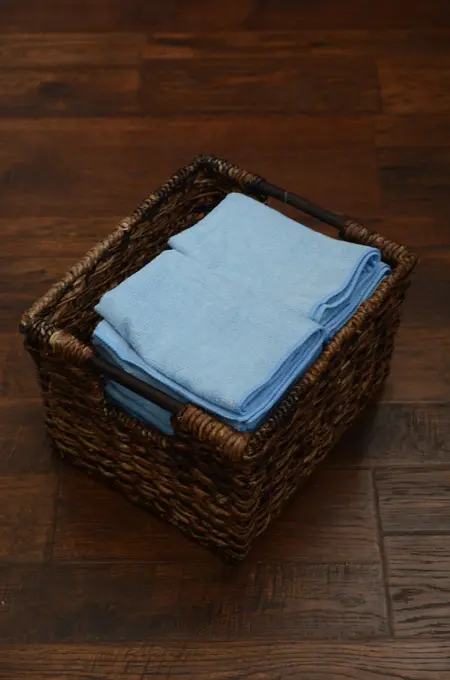 I store my microfiber clothes in a small basket on the top shelf, which is a little hard to reach even for my 5 foot 9 inch body, so I also store a small collapsible stool in between the washer and dryer when I'm not using it.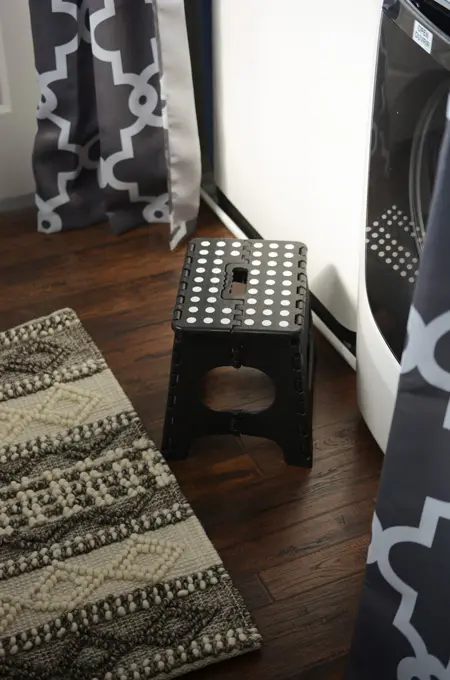 I also have a small laundry basket that hangs out on top of the dryer specifically for kitchen towels. There is a larger laundry basket stored in our master bathroom upstairs for all other laundry so a small basket is all I need in my laundry room.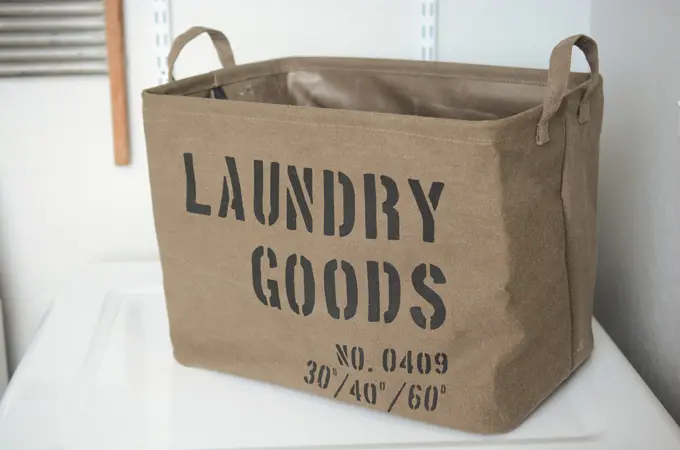 Decorate
Now the fun stuff! With my space being small there really isn't too much to decorate but I did want something that said "This is the Laundry Room." Ha! So when I saw this cute sign online at Kirkland's I knew I had to have it!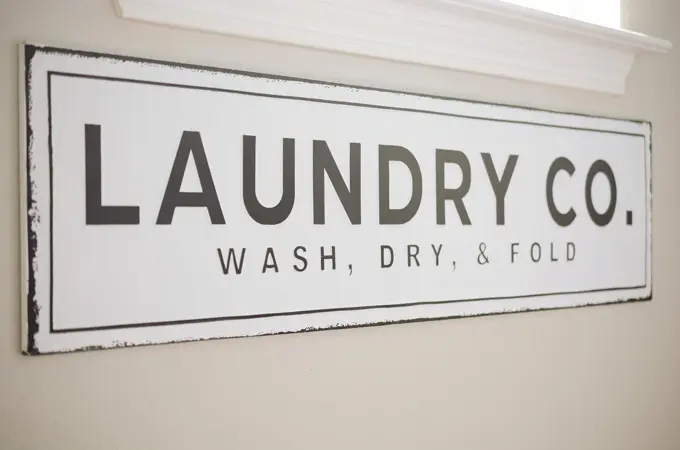 And we picked up an old antique washing board from one of our many antique outings and I knew I wanted it in the laundry room but with limited space it took me awhile to figure out where I wanted it. I finally decided right in the middle. Sure it might get hidden with clothing but for me that is just motivation to keep the laundry closet clean and clothes put away.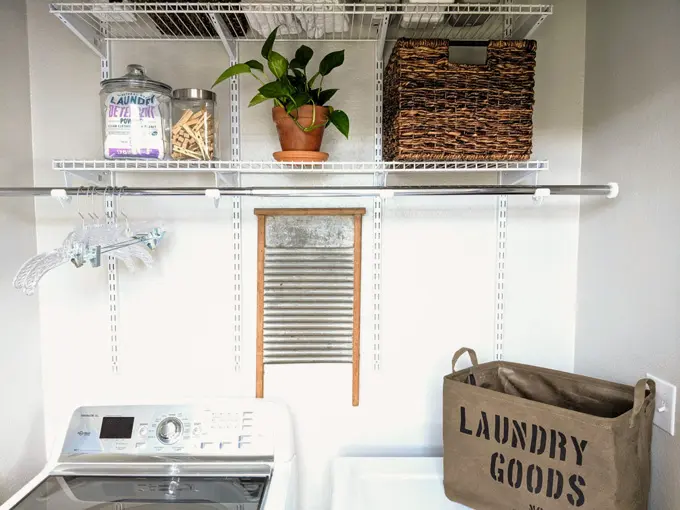 We also updated the light fixture. I wanted to take advantage of the tall ceilings we have so I opted for a pedant light with a modern farmhouse vibe from Wayfair.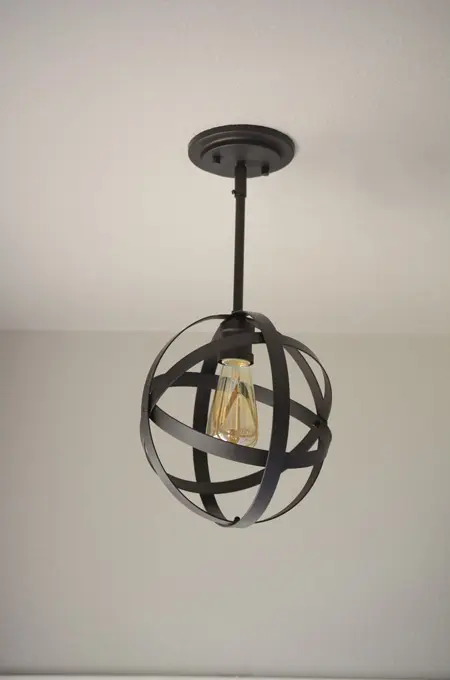 Thanks to some organizing, decorative storage and a few decorative elements my small laundry space now feels inspiring, comfortable and clean. And that's a space I like to do my laundry in!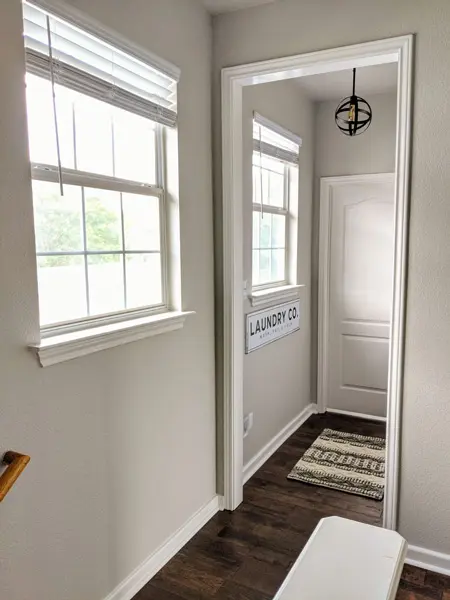 And I absolutely LOVE all the windows in our home. It really brightens up the space and makes it all feel bigger.
Be sure to print out my Laundry Room Makeover Checklist below!
WALL COLOR: Sherwin Williams Repose Gray
TRIM COLOR: Benjamin Moore Decorators White
You May Also Like: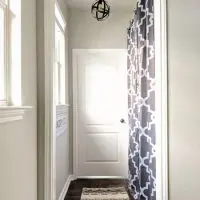 Laundry Room Makeover
Laundry Room Makeover Checklist
Instructions
PREPARE
Organize stations for items you want to Keep, Throw Away, Donate or Move to Another Room.
Remove everything off the shelves/cabinets.
Empty out any remaining items in the laundry room.
DECLUTTER
Sort all items in their designated stations above.
CLEAN
Pull out the washer and dryer and vacuum behind them.
Wipe down washer and dryer.
Clean out dryer vent.
Clean all shelving, walls, baseboards, doors, switch plates, light fixtures and floors.
ORGANIZE
Baskets, bins, trays and glass jars are great ways to organize laundry supplies.
DECORATE
Make this space inspiring for YOU!
Recommended Products
As an Amazon Associate and member of other affiliate programs, I earn from qualifying purchases.