My inspiration for this recipe comes from Cuisine At Home the April 2012 edition. The original recipe had won ton wrappers being used for the ravioli. After feeling I searched all of Katy, Texas (I checked 3 stores ha) I gave up, almost anyway.
I really wanted something to post for Ravioli Day and I didn't want to make anything with that store bought, highly processed ravioli, so I put on my chef hat and said to myself I'll just make homemade ravioli. Yeah that will really hurt the won ton wrappers I couldn't find!
I have never made homemade pasta before so I was a bit nervous. But it really turned out great.
I doubled the original recipe to make 4 servings (which actually made about 6 servings), and since crabmeat isn't so cheap around here I used lump crabmeat and claw crabmeat to help save a little bit of money.
After having this homemade ravioli, I told my husband "I don't think I'll ever buy store bought ravioli again!" This is just too good. It does take some time. Try 3 hours to be exact. But it was well worth it. Plan this in advance and it won't be too bad. It was quite relaxing stuffing those babies and making them nice and pretty! I felt very accomplished after I finished stuffing these beauties. Love really went into this dish. I can't wait to do this again. Ok not anytime soon but eventually. J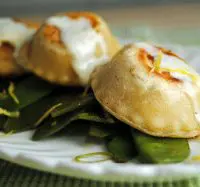 Homemade Crab and Goat Cheese Ravioli with Spicy Snow Peas
Ingredients
FOR THE RAVIOLI STUFFING
8 oz. crumbled goat cheese
4 tablespoons chopped fresh chives
½ teaspoon kosher salt
½ teaspoon black pepper
1 6.5 oz. can lump crabmeat
1 6.5 oz. can claw crabmeat
2-4 tablespoons olive oil for browning
FOR THE PASTE DOUGH
3 cups all purpose flour
5 egg yolks
½ teaspoon salt
Water (enough to make a smooth dough)
1 egg beaten, for sealing
FOR THE SAUCE
4 cloves of garlic, minced
2 tablespoons unsalted butter
1 ½ cups heavy cream
2 tablespoons fresh lemon juice
Lemon zest
SNOW PEAS
1 pound fresh snow peas, trimmed
Pinch of red pepper flakes
½ cup water
Salt to taste
Instructions
FOR THE RAVIOLI STUFFING:
Combine goat cheese, chives, salt and pepper in a bowl. Stir in crabmeat with a fork, keeping lumps as large as possible.
Chill crabmeat mixture in the refrigerator while you make the ravioli dough.
FOR THE DOUGH:
Beat the egg yolks and add them, and the salt to a mixing bowl already with the flour in it. With your dough hook attachment, or your hands, mix to form dough. If you can't incorporate the flour into the dough, add more water until you form a nice firm but sticky dough.
Knead the dough for about 10 minutes or until it is smooth. Let the dough rest in your mixer bowl, covered, for about 20 minutes.
Sprinkle a little flour on your work surface and on your rolling pin. Tear off a piece of dough bigger than a gold ball but smaller than a baseball. Flatten it with your rolling pin and start to roll it out. The dough will be sticky so have a bowl of flour nearby. After a few good rolls, lift the dough sheet off the work surface and flip it over, adding more flour as necessary. Use as little flour as you can get away with, but keep the dough sheet loose and sliding on the surface.
Keep rolling and flipping until you get a dough that's paper thin. You should be able to see your hand through the rolled dough.
I used these Ateco cutters to cut my ravioli out. You could use the top of a drinking glass and a knife or pizza cutter to cut out your ravioli if you don't have cutters. (I recommend getting some type of cutter though it saves time.) Cut as many pasta circles out as you can from each sheet of dough.
Take the scraps and put them back into your left over dough ball that should still be covered for future rolling.
FILL THE RAVIOLI:
Scoop 2 teaspoons of crab meat mixture into the centers of your pasta circles. With your finger tip brush a little of the beaten egg on the edges of the pasta circle and place another pasta circle on top and seal them together. You can take the next smallest round cutter to trim and seal up the edges for a decorative boarder if desired. Repeat with the remaining filling and pasta dough. Place on cookie sheets and refrigerate until ready to cook.
COOK THE RAVIOLI:
Heat a large non-stick skillet over medium heat. Add 2 tablespoons oil and ravioli in 4 batches, cook until brown on one side, about 2-3 minutes. Flip ravioli, add 2 tablespoons water to skillet, cover and steam until soft, about 2 minutes. Remove ravioli to a plate. Repeat with remaining ravioli.
FOR THE SAUCE:
Saute garlic in butter in a small skillet, 1 minute. Stir in cream, increase heat to high, and boil until cream is reduced to about 1 cup, about 5 minutes. Stir in lemon juice and season sauce with salt and pepper. Divide sauce between ravioli servings and garnish each with zest.
SNOW PEAS:
Heat a non-stick skillet over medium-high heat. Add snow peas and pepper flakes; cook 1-2 minutes. Stir in water and cook until peas are tender and water evaporates, about 3 minutes more. Season peas with salt; serve with ravioli.
Nutrition Information:
Serving Size:

1
Amount Per Serving:
Calories:

801
Total Fat:

49g
Saturated Fat:

26g
Cholesterol:

374mg
Sodium:

1004mg
Carbohydrates:

53g
Fiber:

4g
Sugar:

5g
Protein:

35g