With the New Year here I wanted to incorporate more salads and vegetables into my meals so I decided to make one of my favorite salads…the Greek salad! This recipe has a way of letting all the ingredients work together! I love that the onions and cucumbers marinate in the vinaigrette for 20 minutes, it really mellows out the bite of the raw onion. And the mint added to the salad also gives the salad a hint a freshness that cuts through some of the briny ingredients. Enjoy!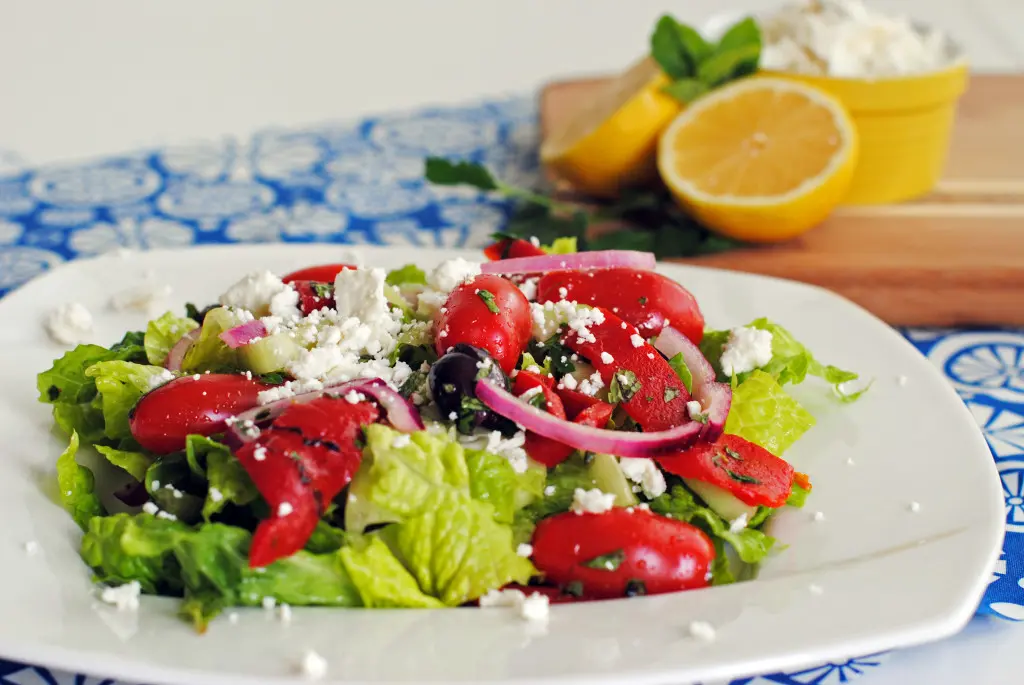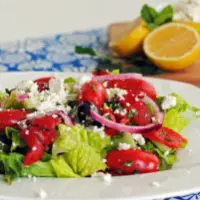 Greek Salad
Ingredients
VINAIGRETTE
6 tablespoons olive oil
3 tablespoons red wine vinegar
1 tablespoon minced fresh oregano
1 tablespoon fresh lemon juice
1 garlic clove, minced
1/2 teaspoon kosher salt
1/8 teaspoon freshly ground black pepper
SALAD
1/2 medium red onion, thinly sliced
1 cucumber, peeled, halved lengthwise and cut into 1/8-inch thick slices
3 romaine lettuce hearts, torn in 1 1/2-inch pieces
1 pint cherry or grape tomatoes
1/4 cup chopped fresh Italian parsley
1/4 cup torn fresh mint
1/2 cup jarred roasted red peppers, rinsed, patted dry and cut into strips
1/2 cup jarred roasted piquillo peppers, rinsed, patted dry and cut into strips
1/2 cup pitted kalamata olives, cut in half
5 ounces feta cheese, about 1 1/4 cup, crumbled
Instructions
VINAIGRETTE
Whisk all ingredients together in a large bowl until combined. Add the onion and cucumber and let sit for 20 minutes.
SALAD
Add the romaine, tomatoes, parsley, mint, and peppers into the bowl with vinaigrette. Toss to coat with dressing.
Transfer salad to a wide, shallow serving platter and sprinkle olives and feta cheese on top. Serve immediately.
Nutrition Information:
Serving Size:

1
Amount Per Serving:
Calories:

438
Total Fat:

33g
Saturated Fat:

7g
Cholesterol:

25mg
Sodium:

1690mg
Carbohydrates:

23g
Fiber:

4g
Sugar:

4g
Protein:

11g
Adapted from Cook's Illustrated Cookbook