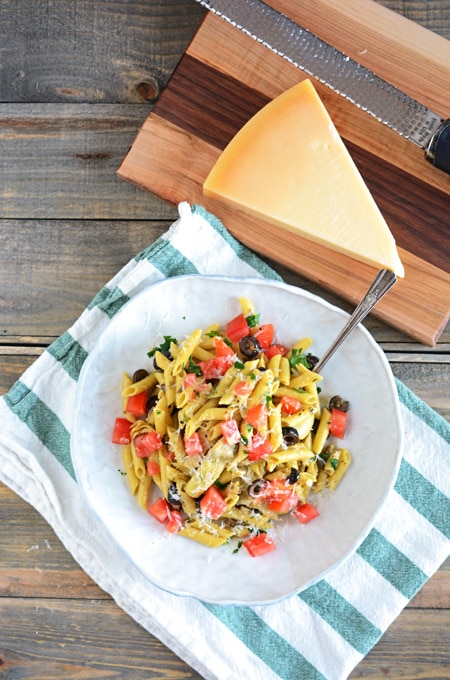 Disclosure: We are a participant in the Amazon Services LLC Associates Program, and affiliate advertising program designed to provide a means for us to earn fees by linking to Amazon.com and affiliated sites. Please note that some of the links in this post are affiliate links and I will earn a commission if you purchase through those links.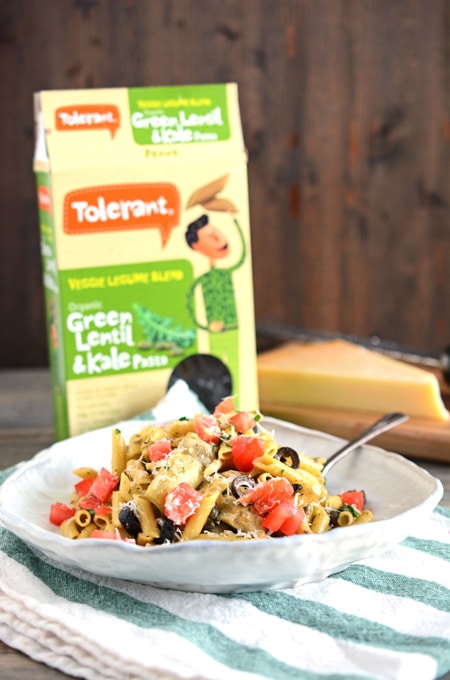 This Gluten Free Veggie Pasta in Olive Oil sauce would be perfect for your Meatless Monday meals or as a great side dish to your main course. This months Degustabox had a box of Tolerant Organic Green Lentil and Kale Pasta
 inside and I thought it would be perfect to go with this long time family favorite. My husband has been making this pasta for years with pasta such as angel hair or spaghetti. And since he had never actually written the recipe down for his olive oil sauce pasta, I thought this would be the perfect time to get that recipe down.
You can also use regular pasta but if you are using Tolerant's pasta there are a couple of things you should know:
When you put the pasta in the boiling water keep an eye on it or it could boil over quickly.
The water will be cloudy and foamy but that's normal when cooking with this type of pasta so be sure to use plenty of water.
Something else you should know, I really like this pasta. And I can see myself using this pasta to lighten things up a little when I want to take in more plant based proteins and nutrients. I love that it's certified organic, vegan, gluten-free and non-gmo. If you can get past the cloudy water then I would definitely recommend this pasta!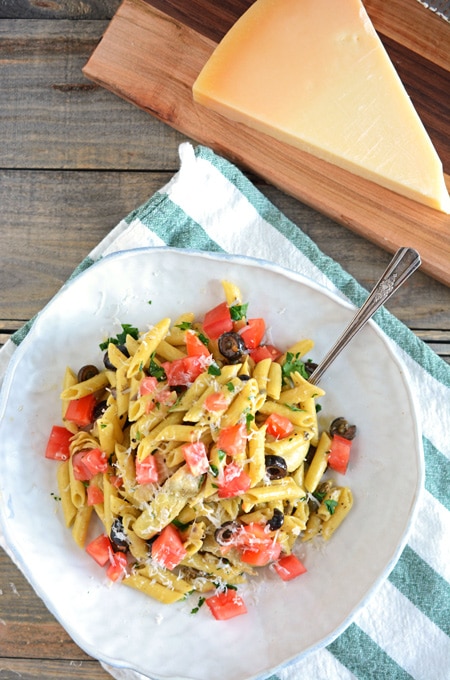 Thank you Degustabox for introducing me to new foods every month. You can can also get your very own Degustabox every month by clicking the banner below. Don't forget to catch me on Facebook, Instagram, Twitter, Pinterest and Yummly! I've also got a newsletter if you'd rather catch up by email. I'll send you one email a week with the latest recipe link, plus what's coming up on The Cake Chica and even some things I might be lovin' at the moment. Talk to you soon!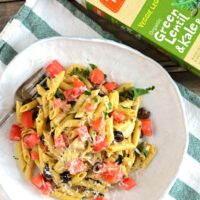 Gluten Free Veggie Pasta in Olive Oil Sauce
Ingredients
8 ounces Tolerant Organic Green Lentil and Kale Pasta
2 tablespoons kosher salt for pasta water
¼ cup extra-virgin olive oil
3 garlic cloves, sliced
1/2 cup sliced black olives
1/2 cup jarred artichoke hearts, sliced
¼ cup white wine
2 tablespoons capers, drained and rinsed
¼ teaspoon red pepper flakes
1 Roma tomato (about ¼ cup), diced
Grated Parmesan cheese, for garnish
Chopped Italian parsley, for garnish
Salt and pepper to taste
Instructions
In a large saucepan, bring 6 quarts of water to a boil. Add kosher salt and pasta to boiling water and stir. Continue to cook according to package instructions.
Meanwhile, in a large saute pan add olive oil and heat over medium heat. Add sliced garlic, black olives and artichokes to pan and saute for about 5 minutes. Add wine and saute for 2 to 3 minutes. Add capers and red pepper flakes. Remove the pan from the heat and add cooked pasta to the pan and mix with tongs to coat the pasta in the olive oil sauce. Top with fresh tomatoes, grated Parmesan cheese and parsley.
Notes
Nutritional information does not include salt for pasta water or garnishes. All nutrition information is an estimate and will differ according to brands of ingredients used.
Nutrition Information:
Serving Size:

1
Amount Per Serving:
Calories:

369
Total Fat:

17g
Saturated Fat:

2g
Sodium:

403mg
Carbohydrates:

44g
Fiber:

4g
Sugar:

1g
Protein:

10g