This dish was inspired by a recipe I saw in Cuisine At Home. See my version below.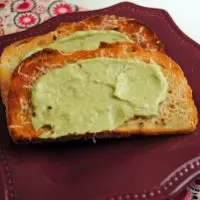 Garlic Bread with Avocado Butter
Ingredients
FOR THE BUTTER, PUREE
1 avocado, pitted and peeled
½ cup fresh cilantro leaves
2 tablespoons minced scallions
1 tablespoon fresh lemon juice
1/3 cup extra-virgin olive oil
¼ teaspoon sea salt
FOR THE BREAD, COMBINE
1 tablespoon grated Parmesan cheese
1 tablespoon extra-virgin olive oil
1 teaspoon minced garlic
¼ teaspoon red pepper flakes
6 slices Italian baguette or sourdough bread (1/2 inch thick)
Instructions
Preheat broiler with oven rack 6 inches from element.
For the butter, puree avocado, cilantro, scallions, lemon juice extra virgin olive oil and ¼ teaspoon salt in a blender until the consistency of butter.
For the bread, combine Parmesan, 1 tablespoon, extra-virgin olive oil, garlic, and red pepper flakes in a bowl. Spread bread with Parmesan mixture and place on a foil lined baking sheet. Broil bread until lightly toasted, about 1 minute. Serve bread with avocado butter and garnish with jalapeno slices.
Nutrition Information:
Amount Per Serving:
Calories:

224
Total Fat:

19g
Saturated Fat:

3g
Cholesterol:

1mg
Sodium:

261mg
Carbohydrates:

14g
Fiber:

3g
Protein:

3g