My husband loves corn bread, I on the other hand don't! Well, at least I thought I didn't. When I was younger my mom would always make a box of corn bread with her chili. I never understood what was so good about that dry and flavorless cornbread she made but everyone else ate it so I thought I just don't like cornbread. But knowing how much my husband loves this stuff I had to at least try a homemade version and who knows, maybe I would like it too. And I did! This recipe is nothing like my momma used to make!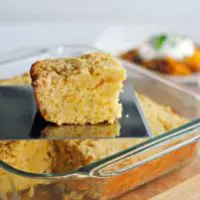 Cornbread
Ingredients
1 1/2 cups all-purpose flour
1 cup cornmeal
2 teaspoons baking powder
1/4 teaspoon baking soda
3/4 teaspoon table salt
1/4 cup packed light brown sugar
3/4 cup frozen corn, thawed
1 cup buttermilk
2 large eggs
8 tablespoons unsalted butter, melted and cooled
Instructions
Adjust your oven rack to the middle position and heat the oven to 400 degrees. Spray an 8-inch square baking dish with vegetable spray. Whisk the flour, cornmeal, baking powder, baking soda and salt in a medium-sized bowl until combined and set aside.
In a food processor or blender, process the brown sugar, corn kernels and buttermilk until combined, about 5 seconds. Add the eggs and process until well combined (corn lumps will remain), about 5 seconds longer.
Using a rubber spatula, make a well in the center of the dry ingredients and pour the wet ingredients into the well. Begin folding the dry ingredients into the wet ingredients, giving the mixture only a few turns to barely combine. Add the melted butter and continue folding until the dry ingredients are just moistened. Pour the batter into the prepared baking dish and smooth the surface with a rubber spatula.
Bake until the cornbread is a deep golden brown and a toothpick inserted in the center comes out clean or with a few moist crumbs, about 25 to 35 minutes. Let cool on a wire rack for 10 minutes before serving.
Nutrition Information:
Serving Size:

1
Amount Per Serving:
Calories:

354
Total Fat:

17g
Saturated Fat:

10g
Cholesterol:

104mg
Sodium:

572mg
Carbohydrates:

43g
Fiber:

4g
Sugar:

12g
Protein:

7g
Adapted from Cook's Illustrated