I found this recipe a couple of years ago in the book Simply Mexican by Lourdes Castro. You will never want to go back to using that jared ice cream topping again. This recipe is simple and oh so good!!!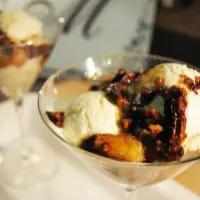 Fried Caramelized Bananas with Ice Cream
Ingredients
INGREDIENTS
1/2 cup light brown sugar, firmly packed
4 tablespoons unsalted butter
3 bananas, peeled and halved lengthwise
1/4 cup pecans, chopped
1 pint vanilla ice cream
Instructions
MAKE THE CARAMEL: Place a non stick skillet over medium high heat and add the brown sugar and butter. Allow both to melt and mix well using a heat proof spatula.
FRY THE BANANAS: When the caramel is hot and bubbly, add the bananas, cut side down, along with pecans. Allow the bananas to cook for about 3 minutes before turning them over. The cut side should have a deep golden brown color and slightly crispy texture. (Depending on the ripeness of the banana, they may break. Don't worry they still will be delicious.)
Cook for another 2 minutes, using a spoon to drizzle the caramel sauce over the bananas to keep infusing them with caramel flavor.
SERVE: Place the bananas on a serving dish or platter, top with scoops of ice cream, and drizzle the caramel sauce and nuts over it.