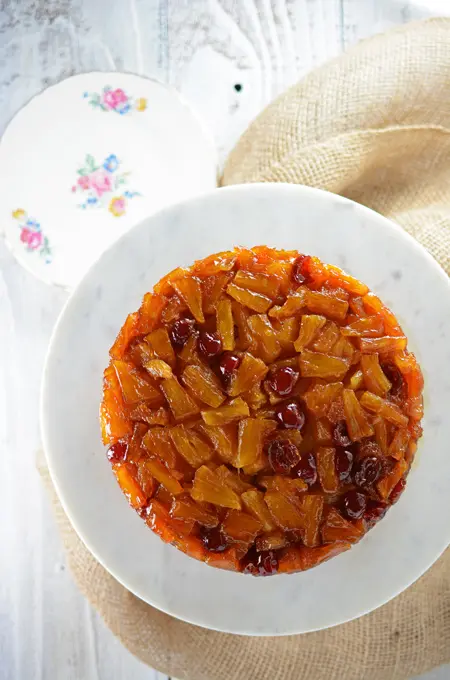 This is a classic cake my mom always used to make when I was a kid. However, she used to make hers from a boxed mix and canned pineapple.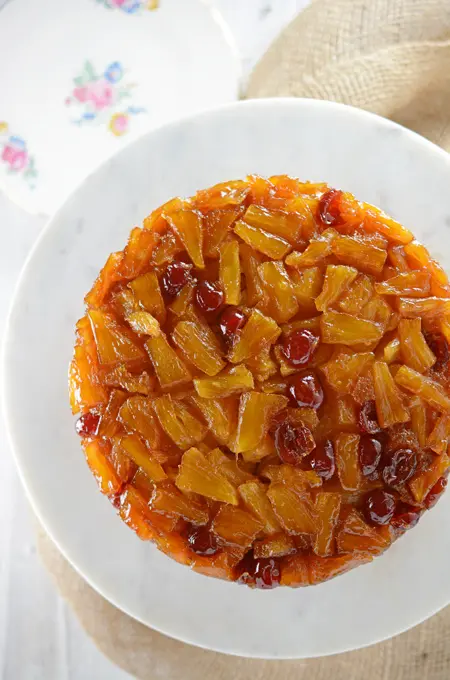 I didn't care back then that the cake was made from a box and the pineapple came from a can, I was just happy I got to eat something sweet that my momma made.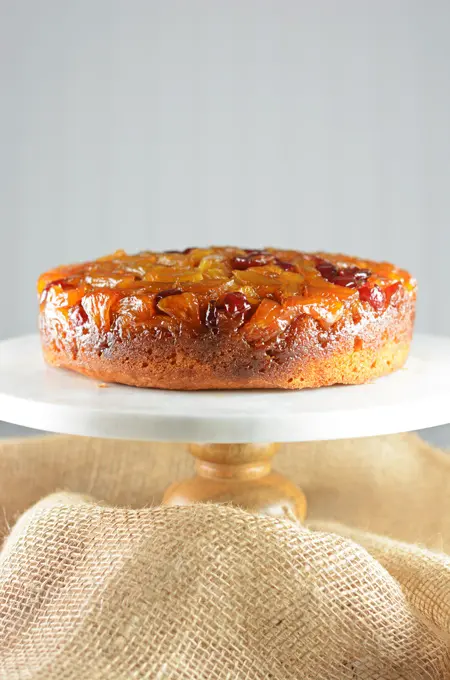 I loved that pineapple topping, but I think my most favorite thing about Pineapple Upside Down Cake were those bright and sweet maraschino cherries!!! I absolutely love them!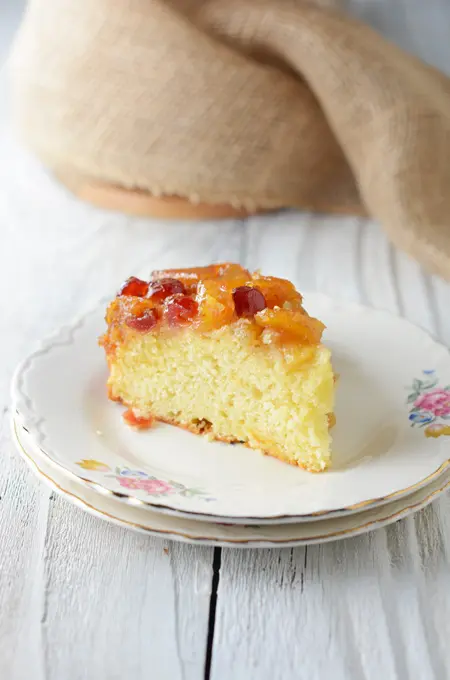 My version of Pineapple Upside Down cake is made with fresh pineapple that's cooked down on the stove top in brown sugar. Then a homemade caramel sauce is made from the juices of the pineapple and brown sugar! Your kitchen will smell like candy caramel heaven!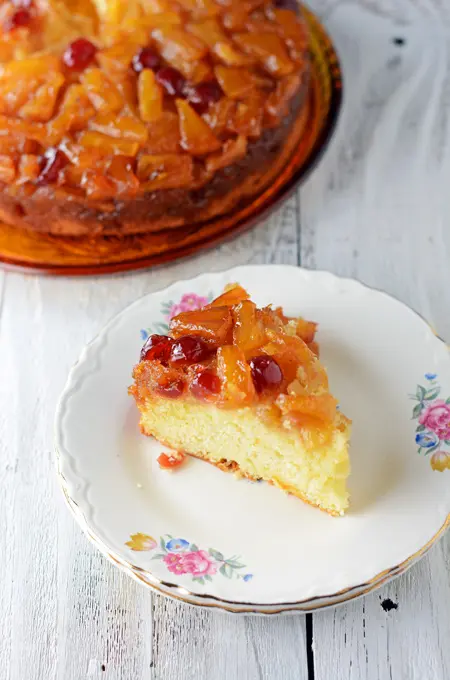 Once the pineapple are all cooked down I tossed a few maraschino cherries in the mix.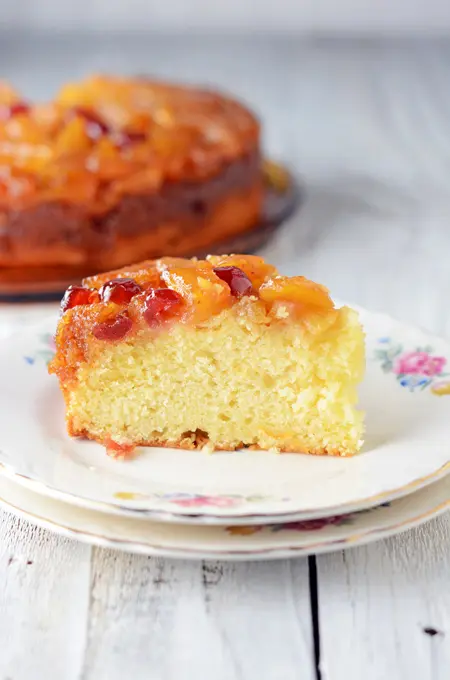 I absolutely love how this cake comes out with the beautiful candy sheen on top. It just makes me all giddy inside.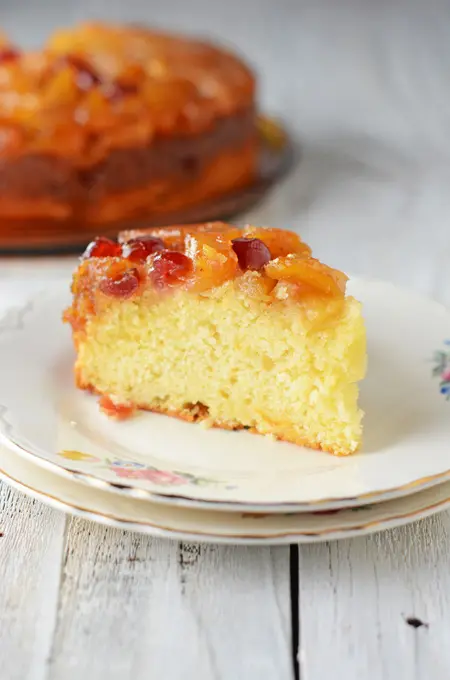 Be sure to give this Fresh Pineapple Upside-Down Cake a try. I think you'll love it as much as I do. You can follow me on social media: Facebook, Instagram, and Pinterest.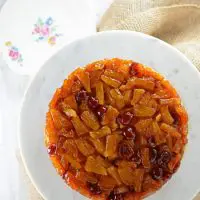 Fresh Pineapple Upside-Down Cake
Ingredients
1 medium fresh pineapple, peeled, cored and diced into ½-inch pieces
1 cup firmly packed brown sugar
3 tablespoons unsalted butter
½ teaspoons vanilla extract
10 maraschino cherries, halved
1 ½ cups unbleached all-purpose flour
1 ½ teaspoons baking powder
½ teaspoons table salt
8 tablespoons (1 stick) unsalted butter, softened but still cool
¾ cup granulated sugar
1 teaspoon vanilla extract
2 large eggs, at room temperature
1 egg white, at room temperature
1/3 cup whole milk, at room temperature
Instructions
Spray an 8-inch round, 3-inch deep or a 9-inch round, 2-inch deep cake pan with nonstick baking spray and set aside.
PINEAPPLE TOPPING
Combine the pineapple and brown sugar in a 10-inch skillet. Cook over medium heat, stirring occasionally until the pineapple is translucent and has a light brown hue, about 15 to 20 minutes.

Empty fruit and juices into a mesh strainer set over a medium bowl to reserve the juices. Return the juices to the skillet, leaving the pineapple in the strainer. Combine cherries with the pineapple and set aside. Simmer juices over medium-high heat until thick and darkened and large bubbles form, about 6 to 8 minutes, adding any more juices that are released by the fruit to the skillet after about 4 minutes.

Remove from the heat and whisk in the butter and vanilla. Pour the caramel mixture into the prepared cake pan and set aside while preparing the cake. (Pineapple will continue to release liquid as it sits, however do not add any more liquid to the already-reduced juice mixture.)

CAKE

Adjust an oven rack to the lower-middle position and heat the oven to 350 degrees. Whisk the flour, baking powder and salt in a medium bowl and set aside.

In a bowl of a stand mixer fitted with the paddle attachment, cream the butter and sugar at medium-high speed until light and fluffy, about 4 minutes. Reduce the speed to medium and add the vanilla and continue to beat until combined. Add whole eggs and egg whites one at a time, beating after each addition and scraping down the sides of the bowl.

Reduce the speed to low and add one-third of the flour mixture and beat until combined, then add half of the milk mixture and beat until combined. Add half of the remaining flour mixture and beat until combined, followed but the remaining half of the milk. Beat in the remaining flour mixture until combined. Give the batter a final stir by hand with a rubber spatula. Scraping the sides and the bottom of the mixer bowl to make sure all the batter is combined. The batter will be thick.

BAKE

Quickly distribute cooked pineapple and cherries in the cake pan in an even layer, gently pressing the fruit into the caramel. Using an ice cream scoop, scoop cake batter over fruit and gently spread batter around the cake pan covering the fruit. Tap pan lightly on the counter to release any air bubbles and bake until the cake is golden brown and a toothpick inserted in the center comes out clean, about 50-55 minutes if you are using an 8 inch cake pan or, 45 to 50 minutes if you are using a 9-inch cake pan.

Cool for 10 minutes on a wire rack, and then invert a serving platter over the cake pan. Flip over and carefully lift off the cake pan. Cool cake to room temperature, about 2 hours before serving.
Adapted from Cook's Illustrated.