This was my first time baking macarons. I was a little nervous about baking these since I've heard these cookies tend to be finicky. But with the help of my favorite website www.howtocookthat.net I was able to face the challenge!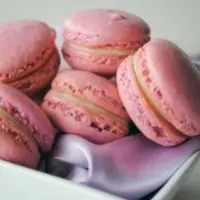 French Macarons with White Chocolate Lavender Ganache
Ingredients
WHITE CHOCOLATE LAVENDER GANACHE
8 ounces white chocolate, such as Lindt
2 tablespoons unsalted butter
1 tablespoon lavender buds
1/4 cup heavy cream
1 tablespoon light corn syrup
1 tablespoon dark rum
MACARONS
4 large egg whites
1/3 cup plus 1 teaspoon caster sugar or powdered sugar
1 1/2 cups plus 4 teaspoons powdered sugar
1 cup plus 3 teaspoons almond meal
1/8 teaspoon salt
gel or powdered food coloring
Instructions
Finely chop the white chocolate into 1/4 inch pieces and place it in a medium heatproof bowl with the butter. Bring the cream, corn syrup and lavender buds to a boil in a small saucepan over medium heat. Immediately pour the hot cream through a sieve over the bowl of chocolate. Tap the bowl on the counter to settle the chocolate into the cream, then let it sit for 1 minute. Using a rubber spatula, slowly stir in a circular motion starting from the middle working your way out to the sides. Stir until all the chocolate is melted, and stir in the rum. Set ganache in the refrigerator while you make the macarons.
Preheat your oven to 300 F. Place the egg whites and caster sugar in a bowl of an electric mixer and beat for about 10 minutes or until very stiff. Add gel or powdered food coloring and mix for about 20 seconds more. Sift the almond meal and powdered sugar twice before combining to the egg white mixture. Toss the any almond lumps that won't pass through the sieve. Fold together the egg white and almond mixture, folding about 50 times. The mixture should be smooth and not runny. For more tips about this process please see this video. Pour the mixture in a piping bag and pipe onto a parchment paper lined cookie sheet, or a silicon baking mat. Bake in the oven for 20 minutes or until the cookies come off the baking sheet cleanly. Once the macaroons have cooled, take your ganache from the refrigerator and stir it to loosen it up a bit. Pour the ganache in a piping bag and fill your macarons. Enjoy!