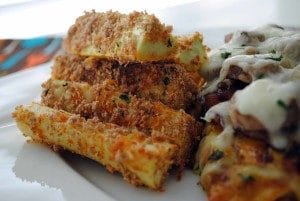 Print
Baked Yellow Squash
Yield 4
Ingredients
2 whole eggs (you could try using just egg whites, but I found the crumbs didn't stick very well)
½ cup 2% milk
1 cup whole wheat panko bread crumbs
¼ cup parmesan cheese
¾ teaspoon onion powder
¾ teaspoon paprika
¾ dried parsley
¾ teaspoon garlic powder
4 medium-sized yellow squash, quartered and cut into wedges
Salt and pepper to taste
Instructions
Preheat your oven to 450 F.
Line a cookie sheet with foil and place a cookie cooling rack inside of the cookie sheet. Spray the cookie rack with a little non-stick spray so the squash doesn't stick. This way the squash cooks nice and crisp on all sides.
In a pie plate, whisk the eggs and milk.
In another pie plate, add the bread crumbs, cheese, onion powder, paprika, parsley, garlic powder and salt and pepper. Mix well.
Dunk the squash wedges into the egg mixture and then into the bread crumb mixture. Repeat until all the squash wedges have been covered in panko crumbs and place them on the cookie rack and bake for 15 minutes or until browned.
Courses Main
Cuisine American
Nutrition Facts
Serving Size 1
Amount Per Serving

Calories 214

% Daily Value

Total Fat 8 g

12%

Saturated Fat 4 g

20%

Cholesterol 105 mg

35%

Sodium 306 mg

13%

Total Carbohydrates 24 g

8%

Dietary Fiber 4 g

16%

Sugars 7 g

Protein 15 g

30%
* Percent Daily Values are based on a 2,000 calorie diet. Your daily values may be higher or lower depending on your calorie needs.
Well it's summer time…..ok, it's technically spring but here in Houston it's typically summer all year-long it just gets more humid during the months of spring and summer. During this time I like to change up my meal choices, particularly at dinner time.
Today's recipe is a good substitute for French fries. You have yellow squash wedges, breaded in whole wheat panko bread crumbs and baked. For a little extra flavor, try dipping these in some marinara sauce.
 
PRODUCT ALERT
I found these bread crumbs at my local HEB! Whole wheat, non GMO and they are panko bread crumbs, what more can you ask for?