Fish tacos are the perfect summertime meal. They are light, flavorful, full of color and ideal to eat while having fun in the sun, and will still have you looking slim and trim at the beach.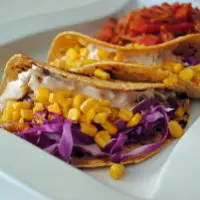 Fish Tacos with Chipotle Cream
Ingredients
FOR THE FISH
2 tablespoons olive oil
2 tablespoons fresh lime juice
¼ teaspoon kosher salt
Freshly ground black pepper to taste
1 pound flaky white fish, such as tilapia, mahi-mahi, or halibut
FOR THE CHIPOTLE CREAM
½ cup plain Greek yogurt
2 tablespoon organic mayo
2 teaspoons finely chopped canned chipotle chili in adobo sauce
FOR THE TACOS
Eight 6 inch corn tortillas
1 ½ cups shredded purple cabbage
½ cup cooked corn kernels
¼ cup fresh cilantro leaves
Lime wedges
Instructions
To make the fish, in a small bowl whisk together the oil, lime juice, salt and pepper and pour over the fish and let marinate at room temperature for 20 minutes.
In a small bowl combine the plain Greek yogurt, mayo, and the chipotle peppers.
Preheat a non-stick skillet on medium high heat. Remove the fish from the marinade and place the marinated fish on the skillet and cook for about 3-4 minutes per side. Once the fish is cooked, cover and set aside.
Heat the tortillas on the burner of a gas stove to the desired level of doneness. Otherwise, microwave the tortillas for about 30 seconds.
Flake the fish with a fork. Spread each tortilla with 1 tablespoon of the chipotle cream. Top with the fish, cabbage, corn and cilantro and serve with lime wedges.
Nutrition Information:
Serving Size:

2
Amount Per Serving:
Calories:

338
Total Fat:

15g
Saturated Fat:

2g
Cholesterol:

60mg
Sodium:

273mg
Carbohydrates:

26g
Fiber:

4g
Sugar:

5g
Protein:

27g