Adapted from The Food You Crave, by Ellie Krieger
At first bite I thought, this is comfort food at its best! The anticipation was high while cooking this dish. The bubbling tomato sauce, the aroma of the fresh dill, and the texture of the charred feta cheese just topped this dish off perfectly!!!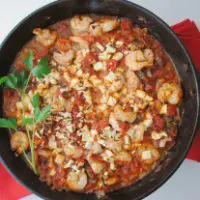 Baked Shrimp with Tomatoes and Feta
Ingredients
1 tablespoon olive oil
1 onion, diced, about (1 ½ cups)
2 garlic cloves, minced
2 14.5 oz cans no-salt added diced tomatoes, with their juices
¼ cup fresh parsley, finely minced
1 tablespoon dill, finely minced
1 ½ pounds medium shrimp, peeled and deveined
¼ teaspoon kosher salt
¼ teaspoon black pepper
6 ounces crumbled feta cheese
Instructions
Preheat your oven to 425 F.
Heat the oil in an ovenproof skillet over medium-high heat. Add the onion and cook, stirring until softened, about 3 minutes. Then add the garlic and cook for 1 minute. Add the tomatoes and bring to a boil.
Reduce the heat to medium-low and let simmer for 5 minutes until the juices thicken.
Remove from the heat. Stir in the parsley, dill and shrimp and season with salt and pepper. Sprinkle the feta cheese over the top. Bake until the shrimp are cooked through and the cheese softens, about 12 minutes.
Remove from the oven after 12 minutes and turn on your broiler. Place you pan under the broiler so the cheese gets a nice char on the top. Watch this carefully. It chars quickly. Serve with quinoa, orzo, or jasmine rice, like I did. Enjoy!
Nutrition Information:
Serving Size:

1
Amount Per Serving:
Calories:

320
Total Fat:

11g
Saturated Fat:

4g
Cholesterol:

290mg
Sodium:

1005mg
Carbohydrates:

17g
Fiber:

5g
Sugar:

9g
Protein:

40g