Since this was my first time cooking with buckwheat, I decided to do a little research on it. And to my surprise, it's not wheat at all, but more like a seed or achene. And to top it off its * gluten free!
Okay, enough about the buckwheat, on to the pancakes! My favorite thing about these pancakes is the blueberries! I typically eat fresh blueberries with oatmeal almost every morning, so this is a great alternative to my usual oatmeal. (I hate missing out on my daily serving of blueberries.) Give these extraordinary pancakes a try, I think you'll like them.
*This is not a gluten free recipe.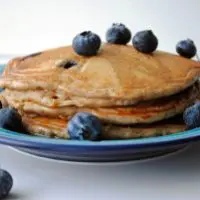 Blueberry Buckwheat Pancakes
Ingredients
¾ cup buckwheat flour
¾ cup wheat flour
1 ½ teaspoons baking powder
½ teaspoon baking soda
¼ teaspoon salt
1 cup low-fat buttermilk
¾ cup reduced fat milk
1 tablespoon honey
2 large eggs
2 tablespoons canola oil
2 cups fresh or thawed frozen blueberries
Cooking spray
½ cup pure maple syrup
Instructions
In a large bowl, whisk together the flours, baking powder, baking soda, and salt. In a medium bowl, beat together the buttermilk, reduced fat milk, honey, eggs, and oil. Stir the wet ingredients into the dry ingredients, folding just to combine. Over mixing can make your pancakes rubbery. The batter should be somewhat lumpy. Fold in 1 cup of the blueberries.
Coat a large nonstick griddle or skillet with cooking spray and preheat over medium heat. Use a ¼ cup measure to ladle the batter onto the griddle or skillet. Flip the pancakes when they are golden brown on the bottom and bubbles are forming on the top, about 1 ½ minutes. Cook the other side until golden brown, about another 1 ½ minutes. Keep the pancakes warm in a 200 F oven while you finishing cooking the remaining pancakes.
Serve with remaining blueberries and pure maple syrup.
Nutrition Information:
Amount Per Serving:
Calories:

676
Total Fat:

17g
Saturated Fat:

3g
Cholesterol:

135mg
Sodium:

820mg
Carbohydrates:

116g
Fiber:

8g
Sugar:

60g
Protein:

22g