I am getting ready for my gingerbread house contest this year so I am cleaning out my craft room/baking room to make some space for all the gingerbread house pieces. I have quite a few boxed cake mixes in my craft/baking room so I am trying some new boxed cake recipes to get rid of them. I found this recipe in Duncan Hines Cake Mix Magic 2. The finished cake was delicious and so easy to make. Enjoy!
"This delicious cake is very rich, very moist and very chocolatey. It may not last long but if it does, it keeps very well."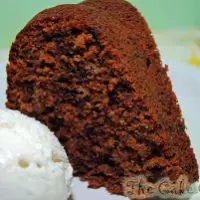 Double Chocolate Delight
Ingredients
Preheat oven to 350 F
10 inch Bundt pan, greased and floured
1 package 18.25 oz white cake mix
1/3 cup granulated sugar
1/3 cup unsweetened cocoa powder, sifted
4 eggs
1 cup sour cream
2/3 cup vegetable oil
1 1/2 cups miniature semi-sweet chocolate chips
Instructions
In a large mixer bowl, combine cake mix, sugar, cocoa, eggs, sour cream and oil. Beat on low speed for 1 minute to blend, then on medium speed for 2 minutes. Stir in chocolate chips. Spread batter evenly in prepared pan. Bake for 50 to 60 minutes or until a tester inserted in the center comes out clean. Cool 25 minutes in pan on wire rack, then remove from pan and cool completely on rack.
Notes
TIPS: Always sift cocoa before using. It clumps during storage and the lumps don't come out, even during beating.If you really want to overdose on chocolate, a chocolate drizzle makes a nice finish.VARIATION: Replace semi-sweet chips with milk chocolate chips.