I will never buy store-bought granola bars again! Not that I really ever did anyway. They are usually heavily processed. These granola bars taste wholesome and best of all they are real, and incredibly easy to make. All you'll need is a big bowl, a wooden spoon and a baking dish. There should be no excuse to buy those boxed granola bars again.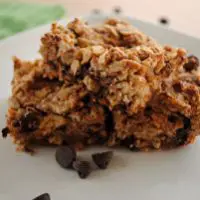 Chocolate Chip Granola Bars
Ingredients
1 cup rolled oats
½ cup whole-grain flour
1 scoop vanilla protein powder
1 tablespoon honey
1/3 to ½ cup bittersweet or semisweet chocolate chips
1/3 cup canola oil
¼ cup unsweetened applesauce
¼ teaspoons sea salt
¼ teaspoons baking soda
¼ teaspoons cinnamon
½ teaspoon vanilla or almond extract
Instructions
Preheat oven to 325 F.
Place all ingredients in a large mixing bowl. Mix with a wooden spoon to combine.
Spread mixture evenly in a 9"x9" baking dish. Bake for 25 to 30 minutes, or until golden around the edges. Let cool and slice into 8 bars. Serve or refrigerate for later.
Nutrition Information:
Serving Size:

1
Amount Per Serving:
Calories:

316
Total Fat:

18g
Saturated Fat:

6g
Cholesterol:

4mg
Sodium:

115mg
Carbohydrates:

35g
Fiber:

4g
Sugar:

19g
Protein:

6g