This Chicken, Goat Cheese and Cherry Salad reminds me so much like something I would get at Dish Society. Dish Society is a casual restaurant focused on using the freshest ingredients from local suppliers. This also means their menu changes with the season. So some of my favorite dishes might not always be there, but that's okay because I just found a salad that taste pretty darn similar to something I would get at Dish Society, and I can have it anytime I want it! Try substituting the dried cherries for fresh cherries when they are in season.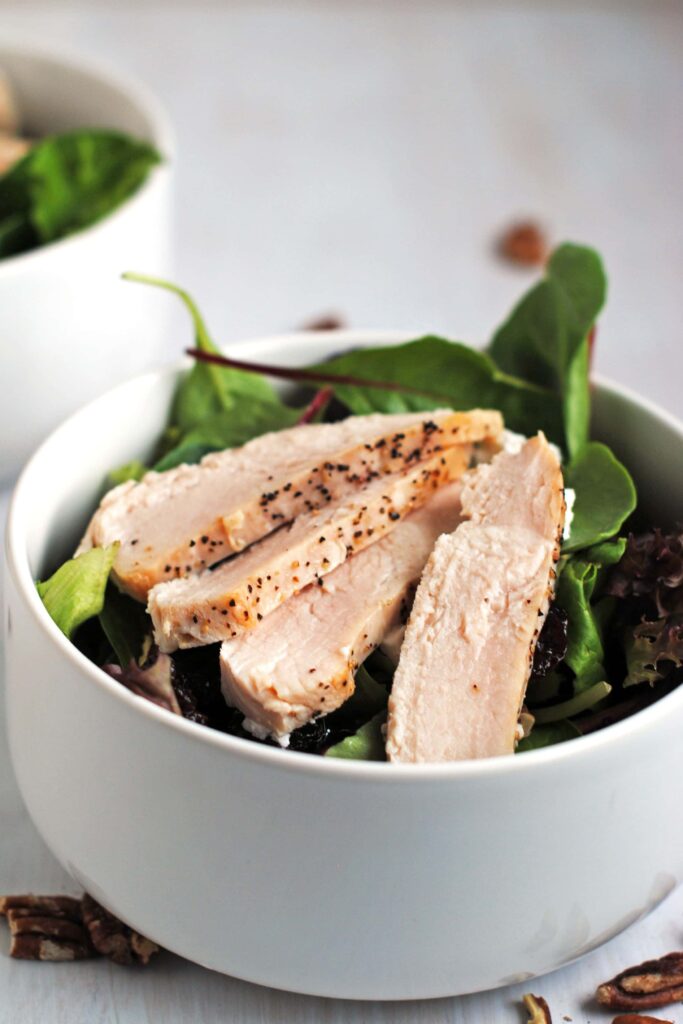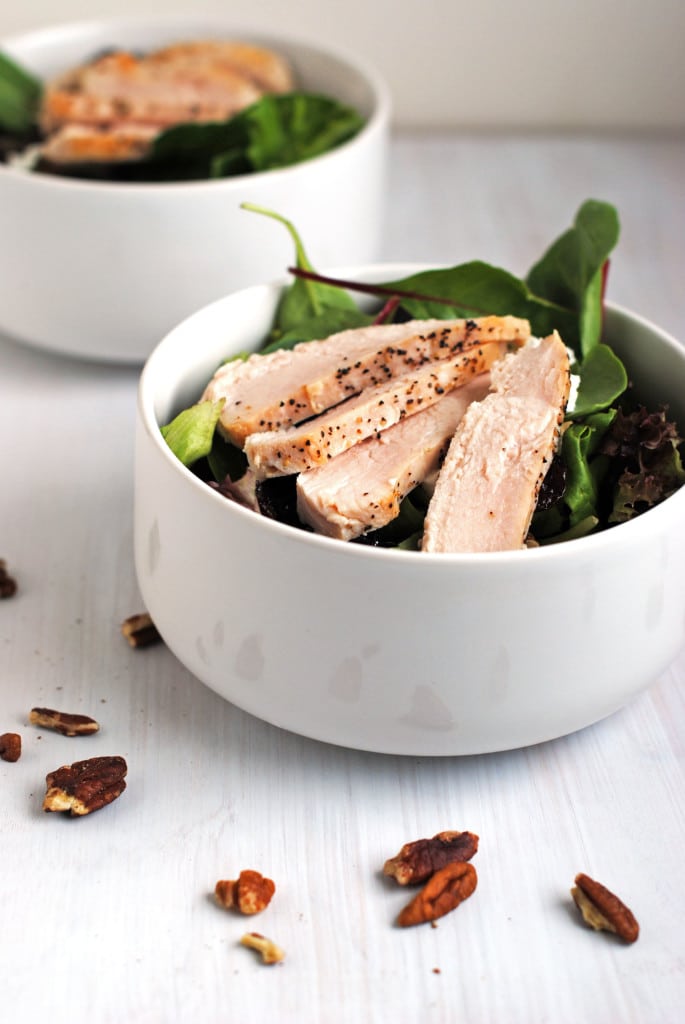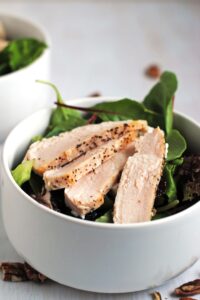 Print
Chicken, Goat Cheese and Cherry Salad
Yield 4
Ingredients
½ cup pecans, coarsely chopped
12 ounces boneless, skinless chicken breasts
½ teaspoon kosher salt
¼ teaspoon black pepper
5 tablespoons extra virgin olive oil, divided
½ cup water
3 tablespoons marmalade, divided
3 tablespoons sherry vinegar
1 small shallot, minced
½ cup dried cherries
5 ounces "salad mix" lettuce
4 ounces goat cheese, crumbled
Instructions
Toast pecans in a 10-inch non-stick skillet over medium-high heat until browned and fragrant, about 10 minutes. Transfer pecans to a plate and wipe down skillet with paper towels.
Pat chicken breast dry with paper towels and season with salt and pepper. Heat 1 tablespoon oil in the now-empty skillet over medium-high heat until the oil just begins to smoke. Brown chicken breasts on one side for 3 minutes, then flip to the other side and stir in the water and 1 tablespoon marmalade into the skillet. Cover and simmer over medium heat until chicken registers 160 degrees, about 5 to 7 minutes. Transfer to a cutting board to cool slightly.
Combine vinegar, shallot and remaining marmalade in a large bowl. Whisking constantly, drizzle in the remaining oil and season with salt and pepper.
Add salad mix to dressing and toss to combine. Divide evenly into salad bowls and divide goat cheese, cherries and pecans among the bowls. Slice breast crosswise and arrange evenly over salads and serve.
Courses Main
Cuisine American
Nutrition Facts
Serving Size 1 bowl
Amount Per Serving

Calories 513

% Daily Value

Total Fat 36 g

55%

Saturated Fat 19 g

95%

Cholesterol 51 mg

17%

Sodium 171 mg

7%

Total Carbohydrates 33 g

11%

Dietary Fiber 4 g

16%

Sugars 26 g

Protein 21 g

42%
* Percent Daily Values are based on a 2,000 calorie diet. Your daily values may be higher or lower depending on your calorie needs.
Adapted from Americas Test Kitchen Cooking Fresh