Grandmas' are notorious for making something out of nothing. Take my Grandma for example, just some iceberg lettuce, a tomato, oil, vinegar, salt and pepper and you've got a salad. A salad so simple and so good, I never would have thought I'd have this adoration for such a simple salad. I love the simple dressing she uses. I asked her once how to make it and I have tried numerous times to copy her simple salad dressing but it was just not the same. I was extremely happy when I started making this Chef's Salad when I noticed a familiar aroma in the air. I thought this scent reminds me of my Grandma's salad! Oh how I hoped it would taste the same. After the first bite I knew this was pretty darn close to Grandma's salad dressing and a definite keeper in my recipe repertoire. This salad may not be as simple as Grandma's but I'd like to think of this as an upscale version of her salad. Enjoy!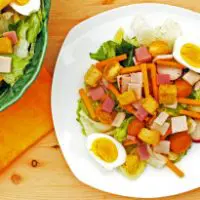 Chef's Salad
Ingredients
VINAIGRETTE
6 tablespoons extra-virgin olive oil
3 tablespoons red wine vinegar
2 teaspoons minced shallot
1 garlic clove, minced
1 teaspoons minced fresh thyme
1/4 teaspoon kosher salt
1/8 teaspoon black pepper
GARLIC CROUTONS
3 tablespoons extra-virgin olive oil
3 garlic cloves, minced
1/4 teaspoon kosher salt
6 slices hearty white bread, crusts removed, cut into 1/2 –inch cubes
EGGS
SALAD
1 cucumber, peeled, halved lengthwise, sliced
2 heads leaf lettuce, washed, dried and torn into bite-sized pieces
8 ounces baby arugula
6 ounces radishes, trimmed, sliced thin
Salt and pepper
12 ounces cherry tomatoes, halved
8 ounces deli ham, sliced 1/4 inch thick, and cut into 1/4 inch squares or 2- inch long matchsticks
8 ounces deli turkey, sliced 1/4 inch thick, and cut into 1/4 inch squares or 2- inch long matchsticks
8 ounces sharp cheddar cheese, sliced 1/4 inch thick, and cut into 1/4 inch squares or 2- inch long matchsticks
Instructions
VINAIGRETTE
Whisk all the ingredients together in a medium bowl and set aside. Add the sliced cucumbers and let stand for 20 minutes.
GARLIC CROUTONS
Adjust the oven rack to the middle position and heat your oven to 350 degrees. Combine the oil, garlic and salt in a small bowl. Let stand for 20 minutes, then pour through a fine mesh strainer into a medium bowl and discard the garlic. Add bread cubes to the bowl with the oil and toss to coat.
Spread the bread cubes in a single layer on a rimmed baking sheet and bake for 5 minutes. Take the croutons out of the oven and stir. Place the croutons back in the oven and bake for another 5 minutes. Let cool on the baking sheet to room temperature. Set aside until needed. Any remaining croutons can be stored in a zip top bag for 1 day.
EGGS
Place the eggs in a medium saucepan and cover with 1 inch of water and bring to a boil over medium high heat. Remove the pan from the heat and cover and let sit for about 10 minutes. While the eggs sit, fill a medium bowl with 4 cups of water add ice cubes to create a water bath. Transfer the eggs to the water bath with a slotted spoon and let sit for 5 minutes. Once the eggs have cooled you can begin to peel the eggs. Slice the eggs in half and set aside.
SALAD
Toss the lettuce, arugula and radishes in a large bowl. Add cucumbers and all but 1 tablespoon of the dressing, and toss to combine. Season with salt and pepper. Toss the tomatoes in the remaining dressing and place the tomatoes around the edges of the greens. Arrange the ham, turkey and cheese over the center of the greens and sprinkle with croutons. Arrange egg halves around the salad and serve.
Nutrition Information:
Serving Size:

1
Amount Per Serving:
Calories:

477
Total Fat:

32g
Saturated Fat:

11g
Cholesterol:

71mg
Sodium:

908mg
Carbohydrates:

23g
Fiber:

2g
Sugar:

7g
Protein:

23g
Adapted from Cook's Illustrated