Pound cake is a very versatile dessert so I have to admit being The Cake Chica, I felt a little guilty that I had never made one myself. Well now I can say I have made a pound cake, and a flavorful one at that. With so many desserts having pound cake as the base, such as trifles, bread puddings, and whatever else your mind can dream up, I believe everyone should have a great pound cake recipe in their repertoire. I recommend giving this one a try. This one comes from Cuisine at Home Issue No 86. April 2011 and it has some great tips for insuring your cake comes out with a fine crumb, a tender, moist texture and a rich, buttery taste. Top it off with some Tres Leches Sauce and fresh fruit and I'm in heaven.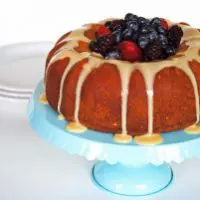 Buttermilk Pound Cake
Ingredients
CAKE
3 cups sifted cake flour (sifted before measuring)
½ teaspoon baking powder
½ teaspoon salt
16 tablespoons unsalted butter
2 cups granulated sugar
4 large eggs, at room temperature
1 teaspoon vanilla extract
1 cup buttermilk, at room temperature
SAUCE
1 (14 ounce) sweetened condensed milk
1 (12 ounce) can evaporated milk
½ cup heavy cream
½ cup dark rum
Instructions
CAKE
Be sure all your ingredients are at room temperature. This will help reduce the chances of over mixing. Your butter should be about 70 degrees, or yield to pressure when pressed but it should not be mushy or greasy. If your butter is soft and mushy it can't trap air and your cake will likely be dense.
Preheat your oven to 350 degrees. Coat a 10-15 cup fluted tube pan with butter and flour or a cake release spray, such as Bakers Joy.
Whisk together flour, baking powder and salt in a bowl, and set aside.
Cream butter in the bowl of a stand mixer on medium speed until softened. Resist the urge to run the mixer on full speed. Doing this will only raise the temperature of the butter and melt it. With the mixer running on medium-low, slowly drizzle in the sugar until all is added, about 5 minutes. Continue creaming the butter and sugar until all the sugar is dissolved, about 6 minutes more, stopping every two to three minutes to scrape down the sides and bottom of the bowl.
Whisk eggs and vanilla extract together in a glass measuring cup and mix into the creamed mixture in 3 or 4 batches, beating to fully incorporate after each addition.
Alternately add flour mixture, and buttermilk in 3 batches, starting and ending with the flour mixture.
Transfer the batter to prepared pan and smooth the top, and bake on an insulated baking sheet, or 2 stacked baking sheets, (baking the cake on an insulated baking sheet or two baking sheets keeps it from having a dark exterior) until golden and a skewer inserted all the way to the bottom of the cake comes out with just a few moist crumbs, about 1 – 1 1/4 hours.
SAUCE
While the cake is baking, combine condensed milk, evaporated milk, cream and rum in a large saucepan over medium heat, stirring constantly to prevent scorching.(Using a large saucepan will help the mixture reduce faster and is less prone to boiling over.) Bring the mixture to a simmer, reduce the heat to low and continue simmering and stirring until reduced to about 2 cups, 20-25 minutes.Transfer the sauce to a heatproof container and place some plastic wrap right on top of the sauce and cool to room temperature.
Once the cake has finished baking, allow the cake to cool in the pan about 15 minutes. Turn the cake out of the pan onto a cooling rack to cool completely.
Pour your room temperature sauce over cooled cake. Garnish with fresh fruit and enjoy!