Shrimp scampi. Honestly I've never been a fan of the stuff. The shrimp scampi I've had at some chain restaurants was just overcooked shrimp swimming in oil and butter. Yuck! Nothing special right? But I thought if made the right way, it could be pretty good. So there I went searching my cookbook collection for something shrimp scampi like. And what did I find? Simple Shrimp Scampi, one that's not drowning in butter and oil and where you can actually taste the flavor of the shrimp.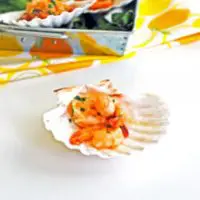 Simple Shrimp Scampi
Ingredients
2 tablespoons olive oil
2 pounds extra large shrimp, peeled and deveined
3 tablespoons unsalted butter
4 garlic cloves, minced
2 tablespoons lemon juice
1 tablespoon dry vermouth or dry white wine
2 tablespoons minced fresh parsley
Pinch of cayenne pepper
Salt and pepper
Instructions
Heat 1 tablespoon olive oil in a 12-inch nonstick skillet over medium-high heat until just smoking. Add 1 pound of shrimp and cook, stirring occasionally, until just opaque, about 1 minute and transfer to a medium-sized bowl. Repeat with the remaining 1 pound of shrimp, transferring shrimp to the bowl with the first batch.
Melt 1 tablespoon of butter in the now empty skillet over medium-low heat. Add garlic and cook, stirring constantly, until fragrant, about 30 seconds. Off the heat and add the lemon juice and vermouth. Whisk in the remaining 2 tablespoons butter, add parsley and cayenne and season with salt and pepper. Return the shrimp and accumulated juices to the skillet. Toss to combine and serve immediately.
Nutrition Information:
Serving Size:

1
Amount Per Serving:
Calories:

317
Total Fat:

15g
Saturated Fat:

5g
Cholesterol:

375mg
Sodium:

260mg
Carbohydrates:

2g
Fiber:

1g
Sugar:

1g
Protein:

47g
Adapted from Cooks Illustrated