I usually can't pull myself away from ordering a Caesar salad at any restaurant I go to these days. They are all slightly different, in good ways and bad. But nothing I have had comes close to what I can make in my own home. At home my salad is never over dressed, I know exactly what's in it and I am never disappointed. Feel free to substitute 1/4 cup of Egg Beaters for the egg yolks.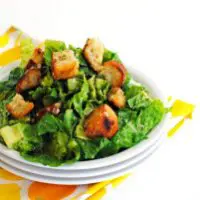 Classic Caesar Salad
Ingredients
CROUTONS
2 garlic cloves, peeled
5 tablespoons extra-virgin olive oil
Ciabatta bread, 5 cups, cut into 3/4 inch cubes
1/4 cup water
1/4 teaspoon kosher salt
2 tablespoons Parmesan cheese, finely grated
SALAD
3 tablespoons fresh lemon juice
2 large egg yolks
6 anchovy fillets, rinsed, patted dry, minced and mashed into a paste
1/2 teaspoon Worcestershire sauce
5 tablespoons canola oil
2 tablespoons extra-virgin olive oil
3/4 cup shredded Parmesan cheese
Pepper
3 romaine lettuce hearts, cut into 3/4 inch pieces
Instructions
CROUTONS
Press the garlic through a garlic press or grate very fine on a rasp-style grater. Measure out 1/2 teaspoon of the garlic paste for the croutons, and 3/4 teaspoon garlic paste for dressing. You can toss out any remaining garlic paste. Combine 1 tablespoon oil and the 1/2 teaspoon garlic paste in a small bowl and set aside. Place bread cubes in a large bowl and sprinkle with water and salt. Toss and squeeze gently so that the bread absorbs the water. Place the remaining 4 tablespoons oil and soaked bread cubes in a 12-inch nonstick skillet. Cook over medium-high heat, stirring frequently, until browned and crisp, 7 to 10 minutes.
Remove the skillet from the heat and push croutons to the sides of the skillet to clear the center of the pan. Add the garlic mixture in the center of the pan and cook with the residual heat of the pan, about 10 seconds. Sprinkle with Parmesan and toss until the garlic and Parmesan are evenly distributed. Transfer croutons to a bowl and set aside.
SALAD
Whisk 3 tablespoons lemon juice and reserved 3/4 teaspoon garlic paste together in a large bowl. Let stand for 10 minutes.
Whisk in the egg yolks, anchovies and Worcestershire into the garlic mixture. While whisking constantly, drizzle canola oil and olive oil into the bowl in a slow, steady stream until fully blended. Add 1/2 cup Parmesan and pepper, and whisk until incorporated.
Add romaine to the dressing and toss to coat. Add the croutons and mix gently until evenly distributed. Serve immediately, passing remaining 1/4 cup Parmesan separately.
Nutrition Information:
Serving Size:

1
Amount Per Serving:
Calories:

727
Total Fat:

38g
Saturated Fat:

8g
Cholesterol:

77mg
Sodium:

602mg
Carbohydrates:

17g
Fiber:

2g
Sugar:

2g
Protein:

8g
Adapted from Cook's Illustrated Cookbook