YUM YUM!!! Are the words that come to mind when I think of these cookies. I found this recipe in a magazine called Cuisine At Home the December 2011 issue.
When I took these babies out of the oven I had to try one, (so did my husband) and WOW they were so ooey and gooey. My husband and I absolutely loved these. The next day I took most of them to work with me to give to my co-workers. I wondered if they were still as delicious as they were right out of the oven. But to my surprise they turned crispy! I am not a fan of crispy cookies, but I kept taking more bites out of this delicious but crispy cookie. I said wow the flavor in this cookie is incredible so much that I don't even mind the crispy texture of the cookie. I still think fresh out of the oven is the best time to munch on cookies, but they can't stay warm forever. I have to say this is my first favorite crispy cookie. I can see myself making these for years to come! Enjoy!!!
"For chewy centers and crisp edges, remove the cookies from the oven when the centers look underdone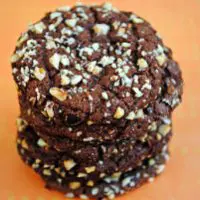 Nutella Cookies
Ingredients
WHISK
2 cups all-purpose flour
1/4 cup unsweetened cocoa powder
1/2 tsp baking soda
1/2 tsp table salt
BEAT
1 stick unsalted butter, softened (8 Tbsp)
1 1/2 cups granulated sugar
2 large eggs
1 cup Nutella
1 tsp vanilla extract
Finely chopped hazelnuts
Instructions
Whisk together flour, cocoa powder, baking soda, and salt in a bowl; set aside.
Beat butter and sugar with a mixer on medium speed, 5 minutes. Add eggs one at a time, beating to fully incorporate before adding the next. Add Nutella and vanilla; beat until combined. Add flour mixture; mix just until combined. Chill dough 4 hours or overnight.
Preheat oven to 350 degrees. Line baking sheets with parchment paper.
Scoop dough with a #30 scoop (scant 3 Tbsp); roll in hazelnuts. Bake cookies, six at a time, until edges are set, about 15 minutes. Let cookies cool on baking sheets.