I'll never order from a pizza delivery chain again after having this pizza! Yes, it takes some preparation but after one bite, you'll see it's well worth it. The high protein bread flour gives a chewy and nicely tanned pizza crust, and the ratio of flour, water and yeast gives us dough that stretches and retains its moisture as it bakes. We knead the dough quickly in a food processor then let it rest for 24 hours to develop its flavors. After we shape and top the pizza, it goes on a fire-hot baking stone to cook. Placing the stone near the top of the oven allows the top of the pizza to brown as well as the bottom. And in minutes we get a pizza with everything in sync: a thoroughly crisp, browned crust with a slightly chewy texture. You will have left over pizza sauce, which I think is perfect for dipping your crust in and devouring every single piece. Keep in mind you'll need a pizza peel and a food processor for this recipe.
Adapted from Cook's Illustrated The Science of Good Cooking
***Dough must sit for 24 hours to rise and develop flavor***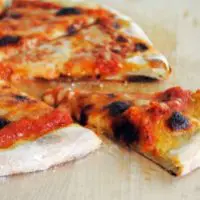 New York-Style Thin-Crust Pizza
Ingredients
DOUGH
3 cups bread flour, plus extra for flouring counter and dough
2 teaspoons sugar
½ teaspoon instant or rapid dry yeast
1 1/3 cups ice water
1 tablespoon vegetable oil
1½ teaspoons salt
PIZZA SAUCE
1(28 ounce) can whole tomatoes, drained
1 tablespoon extra-virgin olive oil
1 teaspoon red wine vinegar
2 garlic cloves, minced
1 teaspoon kosher salt
1 teaspoon dried oregano
¼ teaspoon pepper
TOPPINGS
1 ounce Parmesan cheese, grated fine (1/2 cup)
8 ounces whole-milk mozzarella, cut into ½ inch cubes (2 cups)
1 tablespoon corn meal, for pizza peel
Instructions
DOUGH
Pulse flour, sugar and yeast in a food processor (fitted with dough blade if possible) until combined, about 5 pulses. With the food processor running, slowly add the ice water and process until the dough is just combined and no dry flour remains, about 10 seconds. Let the dough sit for 10 minutes.
Add the oil and salt to the dough and process until the dough forms a satiny, sticky ball that clears the sides of the bowl, about 30 to 60 seconds. Transfer the dough to a lightly oiled counter and knead briefly by hand until smooth, about 1 minute. Shape the dough into a tight ball and place in a large, lightly oiled bowl. Cover the bowl tightly with plastic wrap and refrigerate for at least 24 hours or up to 3 days.
PIZZA SAUCE
Process all the ingredients in a clean bowl of a food processor until smooth, about 30 seconds. Transfer to a bowl and refrigerate until ready to use.
PIZZA
One hour before baking, adjust the oven rack to the upper-middle position (rack should be 4 to 5 inches from broiler), set a baking stone on the rack and heat the oven to 500 degrees. If you don't have a baking stone you can bake the pizzas on an overturned and preheated rimmed baking sheet. Transfer the dough to a clean counter and divide in half. With cupped hands, form each half into a smooth, tight ball. Place the balls of dough on a lightly greased baking sheet, spacing them at least 3 inches apart; cover loosely with greased plastic and let sit for 1 hour on the counter.
Coat 1 ball of dough generously with flour and place on a well-floured counter (keep the other ball covered). Use your fingertips to gently flatten the dough into 8-inch disk, leaving 1 inch of the outer edge slightly thicker than center. Using your hands, gently stretch the disk into a 12-inch round, working along the edges and give the disk quarter turns. Transfer the dough to a pizza peel sprinkled with corn meal and stretch into a 13 inch round. Use the back of a spoon or ladle and spread a 1/2 cup of tomato sauce in a thin layer over the surface of the dough, leaving ¼ inch border around the edge. Sprinkle ¼ cup Parmesan cheese evenly over the sauce, followed by 1 cup mozzarella. Slide the pizza carefully onto the baking stone and bake until the crust is well browned and cheese is bubbly and beginning to brown, about 10 to 12 minutes, rotating the pizza halfway through baking. Transfer the pizza to a wire rack and let cool 5 minutes before slicing and serving. Repeat this process to shape, top and bake the second pizza.
Nutrition Information:
Serving Size:

1
Amount Per Serving:
Calories:

432
Total Fat:

21g
Saturated Fat:

10g
Cholesterol:

37mg
Sodium:

644mg
Carbohydrates:

39g
Fiber:

3g
Sugar:

7g
Protein:

19g