Hi guys, it feels like it has been awhile since I posted but it's only been about 2 weeks. In any case I missed blogging, and baking! I've had a busy last two weeks so that's why I have been away for a couple of weeks. But I am back at it again! I mentioned to Craig this week how I missed baking and I need to get back to it this weekend! So this weekend I picked my favorite oatmeal raisin cookie. I love that this cookie stays soft and chewy on the inside once completely cooled, and develops a nice sugary-like crust on the outside. Just perfect! Try them, I think you'll agree.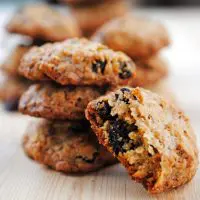 Chewy Oatmeal-Raisin Cookies
Ingredients
1 1/2 cups all-purpose flour
1/2 teaspoon table salt
1/2 teaspoon baking powder
1/4 teaspoon nutmeg
16 tablespoons unsalted butter, softened
1 cup packed light brown sugar
1 cup granulated sugar
2 large eggs
3 cups old-fashioned rolled oats
1 1/2 cups raisins
Instructions
Adjust an oven rack to the middle position and preheat oven to 350 degrees. Line a full sized baking sheet with parchment paper. Whisk flour, salt, baking powder and nutmeg together and set aside.
Using a stand mixer fitted with the paddle attachment, beat butter and both sugars at medium speed until light and fluffy, about 2 minutes. Add eggs, one at a time and mix on low speed until incorporated, about 30 seconds.
With mixer on low speed slowly add dry ingredients until combined, about 30 seconds. Mix in oats and raisins until combined. Give dough a final stir to make sure all ingredients are evenly distributed. Chill dough in refrigerator for 10 minutes to make dough easier to work with.
Roll 2 tablespoons of dough into a ball and place 2 inches apart on baking sheet. Bake until cookies turn golden brown around edges, about 20 minutes, rotating pan halfway through baking. Let cookies cool on baking sheet for 2 minutes then transfer to a wire rack to cool completely.
Adapted from Cook's Illustrated Cookbook