I must admit I love boxed brownie mixes. I have tried several homemade brownie recipes and most just don't compare to box brownies in my opinion. But every now and again I get the urge to try a new homemade brownie recipe and low and behold every now and again one makes the cut! Like this one. I can remember off the top of my head 2 homemade brownie recipes that I love and this is one of them. Ok make that 3 I just remembered this healthier version of a brownie, you can check out that recipe here.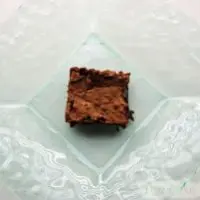 Mocha Almond Brownies
Ingredients
Non-stick vegetable spray
4 ounces bittersweet chocolate, chopped
4 ounce semi-sweet chocolate, chopped
¾ cup unsalted butter
2 cups sugar
6 large eggs
1 teaspoons vanilla extract
½ teaspoon almond extract
½ cup all purpose flour
1/3 cup unsweetened cocoa powder
1 teaspoon instant espresso powder or instant coffee granules
½ teaspoon salt
¼ cup sour cream
1 cup almonds, chopped
Instructions
Preheat the oven to 375 F. Spray a 13x9x2 inch metal baking pan with nonstick spray. Line with parchment paper, extending over 2 long sides of the pan. Spray paper. Stir chocolate and butter in a heavy small saucepan over low heat until melted. Cool to lukewarm.
Using an electric mixer, beat the sugar, eggs, vanilla and almond extract in a medium bowl until fluffy, about 5 minutes. Add the chocolate mixture; beat just until blended. Add the flour, cocoa powder, espresso powder and salt; beat just until blended. Stir in the sour cream and almonds.
Transfer the batter into the prepared pan. Bake until tester inserted into the center comes out with moist crumbs attached, about 35 minutes. Transfer the pan to a rack; cool completely. Fold down the parchment paper. Cut the brownies into squares. And sprinkle with powdered sugar if you'd like.