I love how dark and rich these brownies are. And best of all, the original recipe has these brownies being 137 calories, but you'd never know it. I'll have to put these brownies up there as one of my favorites.
I tweaked the original recipe a bit. I added mini chocolate chips and I also baked them in an 8×2 inch square baking pan, instead of the 9 inch called for in the original recipe. So my version is probably more than 137 calories.
Feel free to try my version or the original found in Perfect Light Desserts by Nick Malgieri.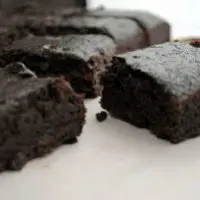 Fudgy Brownies
Ingredients
½ cup alkalized Dutch-processed cocoa powder
1 cup all-purpose flour (spoon flour into dry-measuring cup and level off)
1 teaspoon baking powder
½ teaspoon salt
3 tablespoons unsalted butter, melted
1 cup granulated sugar
½ cup dark brown sugar, firmly packed
2 large egg whites
½ cup unsweetened applesauce
2 teaspoons vanilla extract
½ cup mini chocolate chips
One 8 inch square baking pan, sprayed with vegetable cooking spray and the bottom lined with parchment or wax paper
Instructions
Set a rack in the middle level of the oven and preheat to 350 degrees.
Sift the cocoa, flour, baking powder and salt into a bowl.
In a medium mixing bowl, beat the butter and sugar together with a large rubber spatula. One at a time, beat in the brown sugar, egg whites, applesauce, and vanilla until smooth.
Stir in the dry ingredients with a large rubber spatula.
Stir in mini chocolate chips.
Scrape the batter into the prepared pan and bake the brownies for about 30 minutes, or until a toothpick or cake tester inserted in the center emerges with moist crumbs clinging to the tester. Cool in the pan on a rack for 5 minutes, then invert to a rack and peel off the paper. Invert and cool completely. Cut the brownies in 2 inch squares.
Notes
Wrap in plastic wrap and store at room temperature.