I made this for my brother-in-laws Birthday. His favorite cake is Strawberry. I don't have a good homemade strawberry cake recipe so I decided to use the WASC recipe and use a Strawberry cake mix. I substituted half of the water for Strawberry liquor and added 10 ounces thawed strawberries chopped and mixed in to the batter. I loved it!
I paired the cake with my most requested chocolate frosting. Whipped Chocolate Ganache. It tasted just like a chocolate covered strawberry. I loved it. Next time I'll be sure to dump the strawberries on top in chocolate to finish it off.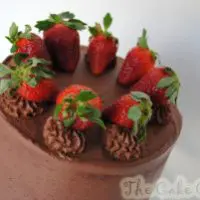 Chocolate Covered Strawberry Cake
Ingredients
2 (18 ounce) boxes Strawberry cake mix
2 cups all-purpose flour
2 cups granulated sugar
1 1/2 teaspoons salt
1 1/3 cups water
1 1/3 cups Strawberry liquor
1/4 cup vegetable oil
2 teaspoons real vanilla extract
2 teaspoons strawberry extract
2 cups sour cream
6 large eggs
10 ounces thawed strawberries
Instructions
Place all dry ingredients in a large mixing bowl and stir together with a wire whisk.
Add the remaining ingredients and beat on medium speed for 2 minutes.
Pour into greased and floured cake pans, filling each pan a little over half full.
Lightly tap cake pans on counter to bring air bubbles to top.
Bake in preheated 325 F oven until cake tests done.
Baking time varies according to the size and depth of pans being used.