I'm not quite sure why turkey cutlets are hard to find around my area. I get pretty annoyed when I can't find my turkey cutlets!!! When I do find them I feel like I hit the jackpot! Of course I can never find them when I need them and that goes for this time around as well. So I had to use boneless pork chops. I really wish turkey cutlets would be more readily available but since they are not pork chops will have to do.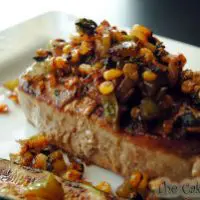 Chipotle Turkey Cutlets with Charred Corn Salsa
Ingredients
1 tablespoon olive oil
1 ½ cups frozen corn, thawed
1 ¼ pounds turkey cutlets
2 teaspoons chipotle chili powder
¼ teaspoon sea salt
4 tablespoons corn oil, divided
1 medium green bell pepper
1 small red onion, diced
¼ cup fresh cilantro, chopped
1 tablespoon fresh lime juice
Instructions
Char the corn in a cast iron skillet with about 1 tablespoon olive oil. Stir often, until corn has a nice char on it.
Sprinkle the turkey on both sides with chipotle powder and salt. Heat 1 tablespoon of corn oil in a large skillet over medium high heat. Add half the turkey and sauté until cooked through, about 1 ½ minutes per side. Transfer to a plate, cover and keep warm. Repeat with the remaining 1 tablespoon corn oil and remaining turkey.
Add remaining 2 tablespoons corn oil to drippings in skillet. Add bell pepper and onion, sauté for 3 minutes. Increase heat to high and add charred corn. Saute until the green pepper begins to brown, about 3 minutes longer. Stir in cilantro and lime juice. Season salsa to taste with salt and pepper; transfer to a medium bowl. Return the turkey to the same skillet and reheat for about 1 minute. Transfer to plates and spoon the salsa on top.
Nutrition Information:
Serving Size:

1
Amount Per Serving:
Calories:

378
Total Fat:

19g
Saturated Fat:

3g
Cholesterol:

56mg
Sodium:

141mg
Carbohydrates:

19g
Fiber:

3g
Sugar:

4g
Protein:

37g