Who knew something so small could really take the dish over the top! The pecans give this dish a great texture and a toasty flavor. A little chopped onion and sliced squash, then a simple marinade to brush on the flounder, and at last topped off with toasted pecans! It couldn't be any more simple and delicious.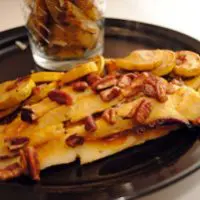 Baked Pecan Crusted Flounder with Squash Saute
Ingredients
FISH
4 boneless, skinless Pacific flounder fillets, rinsed and patted dry
2 teaspoons raw honey
2 teaspoons prepared mustard
¼ teaspoon sea salt
1/8 teaspoon cayenne pepper
½ cup unsalted pecan pieces, toasted
SQUASH
1 tablespoon safflower oil
1 cup diced onion
2 medium yellow squash, sliced
¼ teaspoon sea salt
½ teaspoon freshly ground black pepper
Instructions
Preheat oven to 425 F. Line a large baking sheet with non-stick aluminum foil.
In a small bowl, combine honey, mustard, salt and cayenne pepper. Brush tops of fillets with mustard mixture, dividing evenly. Sprinkle pecans over top, dividing evenly. Bake for 12 minutes or until fish flakes easily with a fork.
Meanwhile, prepare squash: Heat oil in a large stainless steel skillet on medium-high heat. Add onion and cook for 5 minutes or until it begins to richly brown, stirring frequently. Add squash and cook for 4 minutes or until edges begin to brown. Add salt and black pepper, stir gently.
To serve, place equal amounts of squash mixture on each of 4 dinner plates, then top with 1 fillet.
Nutrition Information:
Serving Size:

1
Amount Per Serving:
Calories:

248
Total Fat:

28g
Saturated Fat:

2g
Cholesterol:

110mg
Sodium:

407mg
Carbohydrates:

16g
Fiber:

5g
Sugar:

9g
Protein:

47g
Original recipe found in Clean Eating magazine the April/May 2011 issue. See my version below.