I was so excited to see a dessert book by Nick Malgieri called Perfect Light Desserts in my local library. I checked it out and couldn't wait to try out some of the recipes. The first one I tried was this one for Banana Loaf Cake. I had over ripe bananas on hand so it was a perfect choice.
I try to eat as healthy as I possibly can by eating clean foods. But I love baking so it's hard not to indulge sometimes. All the recipes in Perfect Light Desserts are all under 300 calories per serving. Hope you enjoy and happy baking!!!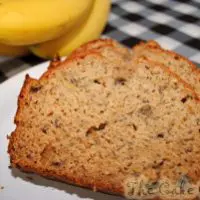 Banana Loaf Cake
Ingredients
2 1/2 cups bleached all-purpose flour (spoon flour into dry-measure cup and level off)
2 teaspoons baking powder
1 teaspoons baking soda
1/2 teaspoon ground cinnamon
3 large egg whites
1/2 cup granulated sugar
1/2 cup dark brown sugar, firmly packed
3 tablespoons unsalted butter, melted
1 teaspoon vanilla extract
2 1/2 cups mashed bananas (about 5 large, very ripe bananas, mashed, then measured)
One 9x5x3-inch loaf pan, sprayed with vegetable cooking spray and the sprayed surface coated with fine, dry bread crumbs.
2 1/2 cups bleached all-purpose flour (spoon flour into dry-measure cup)
Instructions
Set a rack in the middle level of the oven and preheat to 350 degrees.
Stir together the flour, baking powder, baking soda, and cinnamon.
In a medium mixing bowl, whisk the egg whites to break them up, then whisk in the granulated sugar and the brown sugar.
Whisk in the butter and vanilla, followed by the mashed bananas.
Sift the flour mixture over the banana mixture and thoroughly fold it in.
Scrape the batter into the prepared pan and smooth the top.
Bake the cake for about 55 to 65 minutes, or until a toothpick inserted in the center emerges clean.
Cool the cake in the pan on a rack for 10 minutes, then unmold it and cool completely on a rack.
Notes
SERVING: This cake is excellent unadorned, or it can be spread with a little-low fat cream cheese.STORAGE: Keep the cake wrapped in plastic at room temperature after it has cooled; For longer storage, double-wrap and freeze for up to a month. Defrost and bring to room temperature before serving.
Nutrition Information:
Serving Size:

34
Amount Per Serving:
Calories:

275
Total Fat:

4g
Saturated Fat:

2g
Cholesterol:

9mg
Sodium:

228mg
Carbohydrates:

56g
Fiber:

2g
Protein:

5g