The first time I made this recipe I was thinking I wasn't going to like it. I had been trying to incorporate more sweet potatoes into my dishes since they are healthier than regular white potatoes (which I absolutely love!!!), but so far I hadn't really found a recipe that I enjoyed. I am just not a big fan of sweet potatoes unfortunately. I wish I were. But like I said before I didn't think I would like this one either, but I was wrong! This has been the only sweet potato recipe that I crave. Looking at the ingredients I really wasn't holding out much hope that I was going to like this recipe. But I was willing to try anything to find a sweet potato recipe I like. And it turns out, I actually LOVE this recipe! This baked sweet potato is full of flavors and textures. I could go on and on about it but I won't. Because you should get that oven preheated and get it ready for these sweet potato bad boys.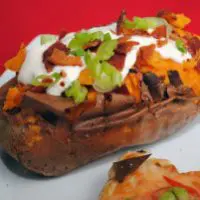 Baked Sweet Potatoes with Maple Jalapeno Sour Cream
Ingredients
4 sweet potatoes
Olive oil
Sea salt
½ cup sour cream or Greek yogurt
1 tablespoon pure maple syrup
2 teaspoons seeded, minced jalapeno
1 teaspoon fresh lime juice
Salt and Tabasco sauce to taste
Bacon bits
Sliced scallions
Instructions
Preheat oven to 450 degrees with a rack positioned in the center.
Rub sweet potatoes with oil and salt. Bake directly on rack until soft when pierced, 40-45 minutes.
Combine sour cream, maple syrup, jalapeno, lime juice, salt and Tabasco; and chill until ready to serve.
Serve potatoes with sour cream mixture, bacon bits and scallions.
Nutrition Information:
Serving Size:

1
Amount Per Serving:
Calories:

307
Total Fat:

19g
Saturated Fat:

9g
Cholesterol:

32mg
Sodium:

409mg
Carbohydrates:

29g
Fiber:

4g
Sugar:

10g
Protein:

6g
Recipe found in Cuisine At Home the free trial issue.