I had been waiting for a cold day to make this. But here in Houston Texas we don't get many days like that. It also has been unseasonably warm down here even for Houston so it was now or never. I had been dying to make this gumbo ever since I picked up this cook book Crescent City Collection: A Taste of New Orleans when my husband and I visited New Orleans just a few months ago.
My husband had to go to a conference for work in New Orleans and I was happy to catch some R&R while he was at work. I think my favorite thing about New Orleans was the food! The gumbo here was excellent, anywhere you go its excellent! It's nothing like "gumbo" here at say Pappadeaux's and other restaurants that serve gumbo. I learned from our culinary tour we took in New Orleans that gumbo isn't even supposed to be spicy. I think I have officially turned into a gumbo snob.  I just won't order it unless I am in Louisiana and if I am not, then I'll just have to make it myself. And that's just what I did here. Actually it was my husband that made it, but anyway it was good!
I have never cared for okra in my gumbo, I just never cared for all the slime that it produces but this recipe has you cook all that slime out before adding it to the gumbo and that really made all the difference. I thought this recipe could have used more seafood so next time I'll add 1 more pound of shrimp and a jar of lump crab meat.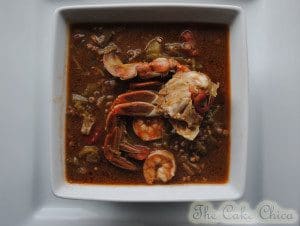 Print
Seafood Okra Gumbo
Yield 6
Ingredients
3 pounds fresh or frozen uncooked head-on shrimp
2 quarts water
2 small fresh or frozen crabs
1 quart water
2 tablespoons vegetable oil
1 quart fresh or frozen okra, cut into ½ inch slices
2/3 cup vegetable oil
½ cup flour
2 cups chopped onions
1 cup chopped green bell pepper
½ cup chopped celery
1 teaspoon minced garlic
1 16 oz. can diced tomatoes
2 bay leaves
2 teaspoons salt, or to taste
½ teaspoon black pepper, or to taste
½ teaspoon white pepper, or to taste
¼ teaspoon cayenne pepper, or to taste
1 pound lump crab meat
Instructions
Peel, devein and remove heads from the shrimp, reserving shells and heads. Cover and chill the shrimp. Rinse the shells and heads and place in a nonreactive saucepan with 2 quarts water. Bring to a boil, reduce the heat and simmer for 30 to 45 minutes. Strain the stock and reserve. Discard shells and heads. Rinse the crabs well and place in a nonreactive saucepan with 1 quart water. Bring to a boil, reduce the heat and simmer for 20-30 minutes. Strain, and reserve stock and crabs. When the crabs are cool enough to handle, snap off both claws and break the body in half. Set aside.
Heat 2 tablespoons oil in a heavy skillet over medium high heat. Add the okra and sauté for 10-20 minutes or until all "stringiness" is gone. Heat 2/3 cup oil in a 8 quart heavy saucepan over medium high heat. Add the flour and stir until the roux is dark brown in color.
Add the onions, bell pepper, celery, and garlic and sauté until the vegetables are tender. Allow the vegetables to stick to the bottom of the saucepan occasionally so that they caramelize. Add the bay leaves, tomatoes, black pepper and white pepper and cayenne pepper. Saute for 10 minutes , allowing the tomatoes to stick to the bottom of the pan occasionally so that they caramelize. Add the cooked okra and cook for 10 minutes, stirring constantly. Add the crab and half the shrimp stock. Bring the mixture to a boil, stirring constantly. Reduce the heat, cover partially and simmer for 30 minutes, stirring occasionally.
Add additional shrimp stock if the gumbo is too thick. Season with salt and pepper. Add the broken crabs and simmer for 10 minutes. Add the peeled shrimp and lump crab meat. Return to a boil, reduce the heat and simmer for 5 minutes or until the shrimp are firm and pink. Discard the bay leaves. Serve over rice in large bowls.
Notes
As with most gumbos, this one also benefits from being made early in the day or the day before to allow time for the flavors to blend. Cover and chill. Reheat gently before serving.
Courses Main
Cuisine American
Nutrition Facts
Serving Size 1 bowl
Amount Per Serving

Calories 748

% Daily Value

Total Fat 36 g

55%

Saturated Fat 4 g

20%

Cholesterol 520 mg

173%

Sodium 1522 mg

63%

Total Carbohydrates 32 g

11%

Dietary Fiber 6 g

24%

Sugars 11 g

Protein 67 g

134%
* Percent Daily Values are based on a 2,000 calorie diet. Your daily values may be higher or lower depending on your calorie needs.