My husband and I ended up quadrupling this recipe by accident. I originally planned on just doubling the recipe. The original recipe serves just 2 and I like to be sure to have leftovers for lunch the next day. I bought 2 packs of 4 potatoes, one pack for this recipe, the other pack for another. It was my husband's job to make the mashed potatoes while I worked on the baked chicken. But my sweetie ended up cutting up all 8 potatoes! Well I just said we will quadruple it and that's that. It ended up being a happy accident. The mashed potatoes were quite delicious. I didn't even mind having 5 containers full of mashed potatoes in my fridge. They are great for easy side dishes throughout the week.
The original recipe was found in Bon Appétit Fast Easy Fresh cookbook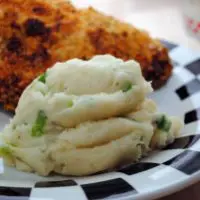 Mashed Potatoes with Green Onions and Parmesan
Ingredients
4 large russet potatoes, peeled, cut into chunks
4 tablespoons unsalted butter, divided
4 tablespoons milk
2 bunches green onions (about 10), chopped
1 ½ cups freshly grated Parmesan cheese
Salt and pepper, to taste
Instructions
Cook potatoes in large pot of boiling salted water until tender, about 15 minutes. Drain well. Return to pot and mash. Mix in 3 tablespoons butter, then milk.
Melt remaining 1 tablespoon butter in a heavy skillet over medium-high heat. Add green onions and sauté until wilted, about 1 minute. Add potatoes. Add Parmesan and mix gently. Season to taste with salt and pepper.
Nutrition Information:
Serving Size:

1
Amount Per Serving:
Calories:

395
Total Fat:

19g
Saturated Fat:

11g
Cholesterol:

56mg
Sodium:

554mg
Carbohydrates:

43g
Fiber:

4g
Sugar:

3g
Protein:

18g