Salmon is one of my favorite fish. You don't have to do much to flavor it up. It has a pleasant taste all on its own.  A little rosemary and lemon is all you need.  See below for a simple and delicious salmon recipe.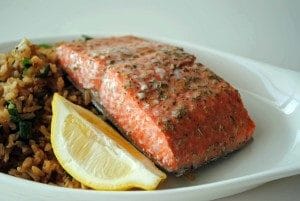 Print
Lemon-Rosemary Salmon Filets
Yield 4
Ingredients
4 salmon fillets
1 tablespoon lemon juice
½ teaspoon dried rosemary
1 tablespoon extra virgin olive oil
¼ teaspoon kosher salt
1/8 teaspoon black pepper
Instructions
Preheat the oven to 350 F. Combine lemon juice, rosemary and olive oil in a medium baking dish.
Season the salmon filets with salt and pepper. Add them to the baking dish and turn to coat. Allow to marinate for 10-15 minutes.
Cover with foil and bake for about 20 minutes or until fish flakes easily with a fork.
Courses Main
Cuisine American
Nutrition Facts
Serving Size 1
Amount Per Serving

Calories 291

% Daily Value

Total Fat 16 g

25%

Saturated Fat 3 g

15%

Cholesterol 110 mg

37%

Sodium 198 mg

8%

Protein 37 g

74%
* Percent Daily Values are based on a 2,000 calorie diet. Your daily values may be higher or lower depending on your calorie needs.