For Chocolate Chip Cookie Week I wanted to try a new chocolate chip cookie recipe. It was hard for me to do this since I already have an ultimate favorite chocolate chip cookie recipe. But I do like a little variety so I took a big step and this is what I found.
I do not know where the original recipe came from. I just found this in one of my "need to try one day" list of recipes and it was just a photo copy I made from a book but it didn't show which one. I did change it up a bit so you can try my version below.
You'll also need a scale to weigh the cookie dough. I finally got to use the weigh scale my husband bought me about 4 years ago lol. I had every intention of converting all my recipes to weighing instead of measuring, but yeah that never happened. If you don't have a weigh scale, you can measure about 1 cup of dough and form into balls. Yes, that's right 1 cup of dough for 1 cookie. I can only bake 2 cookies at a time in my cookie sheet, just FYI. The first batch was a test run. I placed 4 cookie dough balls on the cookie sheet and they all ended up meeting together. I just trimmed the edges a little and they were fine. But lesson learned!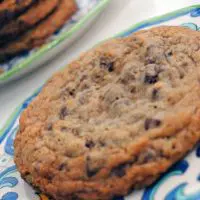 Chocolate Chip Cookie Week!!!!! / Big Chocolaty Chip Cookie
Ingredients
1 cup unsalted butter, softened
1 ½ cups firmly packed brown sugar
¼ cup granulated sugar
1 tablespoon pure vanilla extract
2 large eggs
1 large egg yolk
2 ½ cups all-purpose flour
¾ teaspoon baking soda
½ teaspoon salt
2 cups semisweet chocolate chips
8 ounces bittersweet chocolate, chopped
Instructions
Preheat oven to 350 F. Line a baking sheet with a silicone mat or parchment paper. Arrange oven rack to upper third position.
In a mixer bowl, cream butter with both sugars until well blended. Add vanilla, eggs, and egg yolk. Fold in flour, baking soda, salt, chocolate chips, and chopped chocolate and blend well to make a thick batter. If your batter seems soft or greasy add 2 to 4 tablespoons more flour. Chill the dough for about 30 minutes so the dough can set up. This will help the cookie not to spread out so much.
Scoop or form balls of 7 to 8 ounces of dough, and place on prepared baking sheets, 2 to 3 inches apart. If you don't have a scale, use 1 cup of dough per cookie.
Bake for 20 to 24 minutes or until cookies are nicely browned on top and just set up looking. Remove from oven and let cool on the baking sheets 15 to 20 minutes before removing.