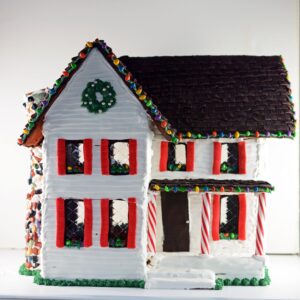 Gingerbread Dough and Royal Icing
You will need a large stand mixer such as a Kitchen Aid to accommodate one batch of dough. If you are using a smaller mixer you will have to half the recipe.
Ingredients
DOUGH
1 cup vegetable shortening
1 cup granulated sugar
2 teaspoons baking powder
2 teaspoons ground ginger
1 teaspoon baking soda
1 teaspoon table salt
1 teaspoon ground cinnamon
1/2 teaspoon ground cloves
1 cup dark molasses (not light or blackstrap)
2 large eggs
2 tablespoons white vinegar
5 cups unbleached all-purpose flour
ROYAL ICING
3 tablespoons meringue powder
1/2 cup warm water
16 ounces (4 1/2 cups) powdered sugar
1 teaspoon vanilla extract
Instructions
DOUGH
In the bowl of a large electric mixer fitted with the paddle attachment, combine the shortening and sugar on medium-high speed until well combined.
Add the baking powder, ginger, baking soda, salt, cinnamon and cloves and mix until incorporated.
Add the molasses, eggs and vinegar and beat until smooth, scraping down the sides of the bowl as necessary.
On low speed, add the flour 1 cup at a time, mix until smooth. Scrape dough onto a sheet of plastic wrap and press into a rough square. Wrap tightly and refrigerate for at least 3 hours or up to 3 days. Dough can be frozen and thawed in the refrigerator.
Heat oven to 375 degrees. Roll out the dough onto a sheet of parchment paper. Cut the dough using your templates. Place the parchment paper with cookie pieces on the back side of your baking sheet and bake cookie pieces for 15 to 20 minutes. You will need to adjust your baking time according to the size of your cookie pieces. Smaller pieces will be baked before 15 minutes.
Remove cookie pieces from the oven and let cool on the pan for 5 minutes. Remove the parchment paper with the cookie pieces and let cool completely on the counter.
Once the cookie pieces have cooled you can began to decorate and build your gingerbread house.
ROYAL ICING
In the bowl of an electric mixer fitted with the whisk attachment, mix together the meringue power and warm water until soft peaks form.
Add the powdered sugar and vanilla and beat until shiny and smooth and has increased in size, about 6 to 8 minutes. You may need to add a tablespoon or some of extra water to get the consistency you desire. Use the icing immediately or cover with a damp paper towel or the icing will begin to harden.
Recipe by The Cake Chica at https://thecakechica.com/gingerbread-farmhouse/