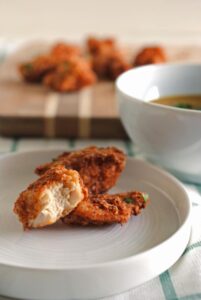 Chicken Nuggets
Yield 4
Ingredients
HONEY-MUSTARD SAUCE
1/2 cup yellow mustard
1/3 cup honey
Salt and pepper
CHICKEN NUGGETS
24 ounces skinless chicken breasts, trimmed
2 cups water
2 tablespoons Worcestershire sauce
Salt and pepper
1 cup all-purpose flour
1 cup panko crumbs, crushed
2 teaspoons onion powder
1/2 teaspoon garlic powder
1/2 teaspoon baking soda
3 large egg whites
1 quart peanut or vegetable oil
Instructions
SAUCE
Whisk mustard and honey in a medium bowl until smooth; season with salt and pepper to taste. Set aside until ready to use.
CHICKEN NUGGETS
Cut each chicken breast diagonally into thirds, then cut each third diagonally into 1/2-inch pieces. Whisk water, Worcestershire sauce and 1 tablespoon salt in large bowl until salt dissolves. Add chicken pieces, cover and refrigerate 30 minutes. Do not brine chicken for longer than 30 minutes or chicken may become too salty.
Remove chicken from brine and pat dry with paper towels. Combine flour, panko, onion powder, 1 teaspoon salt, 3/4 teaspoon pepper, garlic powder and baking soda in shallow dish. Whisk egg whites in second shallow dish until foamy. Coat half of chicken with egg whites and dredge in flour mixture, pressing to adhere. Transfer to plate and repeat with remaining chicken (don't discard flour mixture). Let sit for 10 minutes.
Adjust oven rack to middle position and heat oven to 200 degrees. Set wire rack in rimmed baking sheet lined with foil (for easy clean up). Add oil to large 5 quart Dutch oven until it measures 3/4 inch deep and heat over medium-high heat to 350 degrees.
Return chicken pieces to reserved flour mixture and turn to coat, pressing gently to adhere. Fry half of chicken until deep golden brown, about 3 minutes, turning halfway through cooking. Transfer chicken to prepared backing sheet and place in oven. Bring oil back up to 350 degrees and repeat with remaining chicken. Serve with Honey-Mustard Dipping Sauce.
Courses Main
Cuisine American
Recipe by The Cake Chica at https://thecakechica.com/chicken-nuggets/