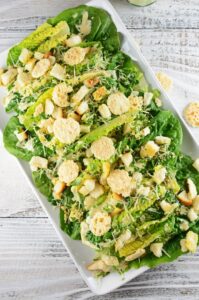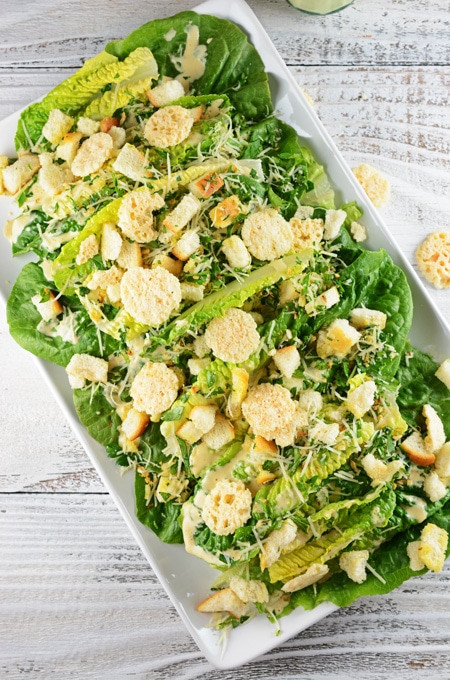 Caesar Salad with Anchovies
Yield 6
Ingredients
2 cups day old baguette or French loaf, diced
4-6 heads romaine hearts, washed, dried leaves separated from stems
4 anchovy fillets
4 small garlic cloves
1 teaspoon freshly ground black pepper
1 large organic egg yolk        
3 tablespoons fresh lemon juice
1 tablespoon sherry vinegar
2 teaspoons Worcestershire sauce
¾ cup extra-virgin olive oil, plus 2 tablespoons
Kosher salt
1 tablespoon minced garlic
½ cup chopped fresh Italian parsley
½ cup freshly grated Pecorino Romano
Whisps Parmesan Cheese Crisps
Instructions
Heat the oven to 350 degrees. Spread the bread crumbs on a rimmed baking sheet and toast in the oven until dried out, about 8 minutes.

On a large platter, arrange the romaine leaves in a single flat layer with the cut side up. Chill in the refrigerator while you prepare the dressing.

Place the anchovies, whole garlic, pepper, egg yolk, lemon juice, vinegar and Worcestershire sauce in a food processor and process until smooth. With the processor running, add ¾ cup extra virgin olive oil to make the dressing, scraping the sides of the bowl as needed. Season with salt to your taste. If the dressing is too thick you can add a few drops of water.

In a large skillet over medium-low heat, heat the remaining 2 tablespoons of oil with the minced garlic and toasted bread. Saute until the bread is crisped and coated with oil and garlic, stirring frequently to keep if from burning, about 2 minutes.  Remove the croutons and toss with parsley and ¼ cup of the cheese.

With a spoon, drizzle the romaine leaves with anchovy dressing, making sure it hits all the leaves. Sprinkle on the croutons, Whisps Parmesan Cheese Crisps and remaining cheese.
Amount Per Serving

Calories 440

% Daily Value

Total Fat 37 g

57%

Saturated Fat 6 g

30%

Cholesterol 44 mg

15%

Sodium 371 mg

15%

Total Carbohydrates 22 g

7%

Dietary Fiber 13 g

52%

Sugars 7 g

Protein 12 g

24%
Recipe by The Cake Chica at https://thecakechica.com/caesar-salad-with-anchovies/