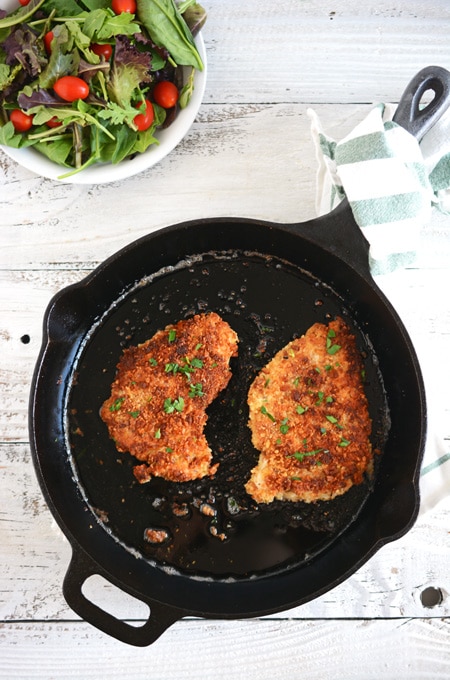 Disclosure: We are a participant in the Amazon Services LLC Associates Program, an affiliate advertising program designed to provide a means for us to earn fees by linking to Amazon.com and affiliated sites. Please note that some of the links in this post are affiliate links and I will earn a commission if you purchase through those links.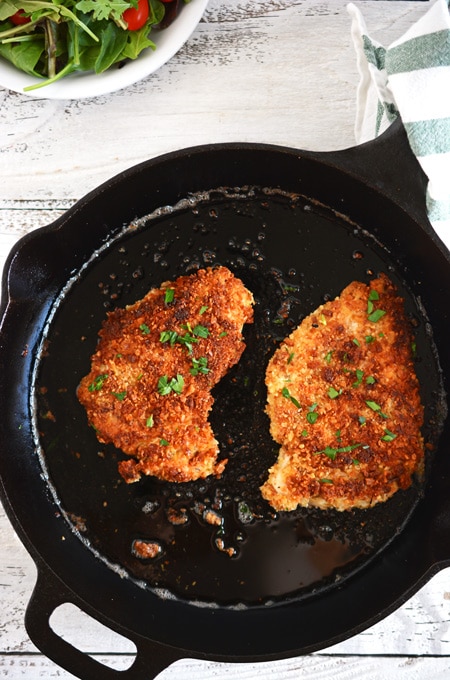 Do you like your chicken crispy? If you do, then I have good news for you! This recipe for Crispy Deviled Chicken Breast will be your new favorite! For classic recipes like this one I always like to refer back to Cook's Illustrated The Science of Good Cooking
 Cookbook to be sure I follow their steps to create that perfect golden and crispy chicken breast.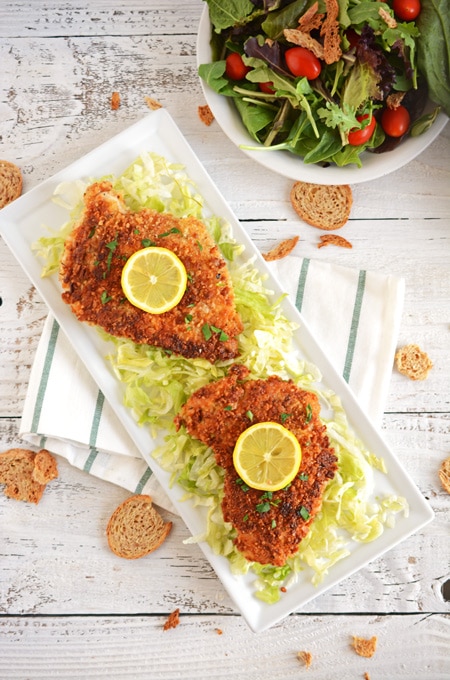 Once you learn the basics of cooking, you'll be able to take that and go off and do your own thing. I always like to know "the whys" and "the hows" of a recipe, and here are some for these Crispy Deviled Chicken Breast.
Tips for creating that perfectly crispy chicken breast
One thing I always do is pound out the chicken so that it cooks evenly. Usually 1/2-inch is a good thickness.
Moisture can cause your breading to fall off your chicken. Always blot your chicken with paper towels. No need to rinse your chicken. Dry that chicken up and soak up as much moisture as possible.
Now this one was a new one for me. Beaten eggs alone are too viscous and tend to form a heavy layer on the meat, making the bread coating too thick. Thinning the eggs with oil and/or water allows excess egg to slide off the chicken more easily, leaving a thinner and more delicate and tender coating. Thinning the eggs with oil helps the breading brown a bit more without adding more moisture. I love learning new things!
Once you've coated the chicken breast, let them rest for 5 minutes. I won't go too far into the science so lets just say it helps things adhere.
My last thing is to never crowd your pan. The breading tends to get greasy and will brown unevenly due to too much steam. Cooking 2 chicken breast at a time will give you a crisp-browned coating every time!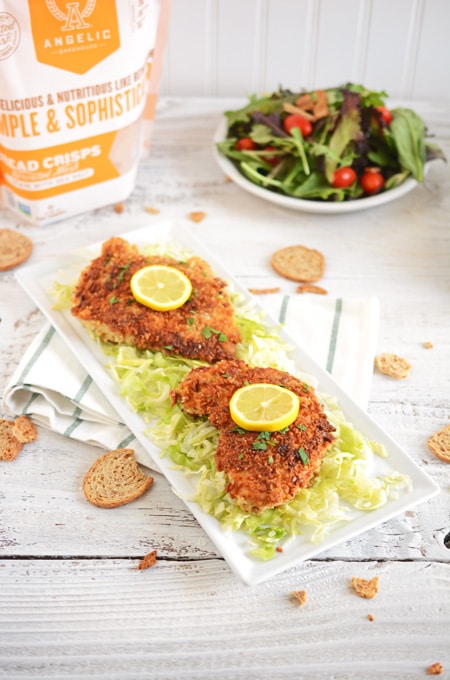 For the crispy coating I used a mix of Panko bread crumbs and Angelic Bakehouse Bread Crisp that I received in this month's Degustabox. Angelic Bakehouse Bread Crisp remind me of a yummy crouton just in chip form. If you can't find them you can substitute croutons. This recipe allows you to get creative with your flavorings with spices and flavor of croutons you choose. I'd love to hear what flavors you come up with. Let me know in the comments.
If you'd like to get signed up for your very own monthly Degustabox, click my affiliate banner below.
Adapted from Cook's Illustrated The Science of Good Cooking
…